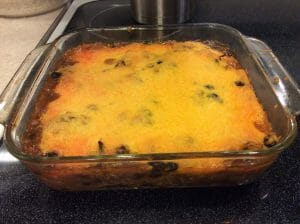 Delicious Chilaquiles Casserole
Yield 2-4 Main Dish
Ingredients
½ lb hamburger
¼ cup diced onions
1 medium zucchini, grated
1 15-ounce can black beans, rinsed
1 teaspoon ground cumin
1 tsp red chili powder
1/2 teaspoon salt
8 corn tortillas, quartered
1 15-ounce can mild red or green enchilada sauce
1 cup shredded Cheddar cheese
Instructions
Preheat oven to 400°F. Lightly coat a 9x9-inch baking pan with cooking spray.Cook hamburger till no longer pink, then add onion and cook, stirring often, until starting to brown, about 5 minutes. Stir in zucchini, beans, cumin, chili powder, and salt; cook, stirring occasionally, until the vegetables are heated through, about 3 minutes.
Scatter half the tortilla pieces in the pan. Top with half the vegetable mixture, half the enchilada sauce and half the cheese. Repeat with one more layer of tortillas, vegetables, sauce and cheese. Cover with foil.
Bake the casserole for 15 minutes. Remove the foil and continue baking until the casserole is bubbling around the edges and the cheese is melted, about 10 minutes more.
Courses Supper
Cuisine Mexican
Recipe by Grace on Parade at https://karenwingate.com/chilaquiles-ultimate-mexican-comfort-food/