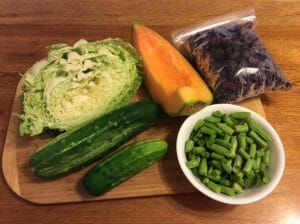 Fried Cabbage and Noodles
Yield 3 -4 servings
Ingredients
2 cups cabbage
2 strips bacon
½ noodles
Instructions
Boil noodles according to package directions.
Meanwhile, dice bacon. Fry until the bacon is not quite done but has emitted enough grease to coat the bottom of your skillet.
Add cabbage. Stir fry until the cabbage has wilted down and is crisp tender, about 5 minutes.
Add noodles, season with salt and pepper, and stir 3-5 minutes. Cover, turn fire to low and cook for about 2-3 minutes or until the cabbage is tender to taste.
Recipe by Grace on Parade at https://karenwingate.com/fried-cabbage-and-noodles/