It's time for a tea party!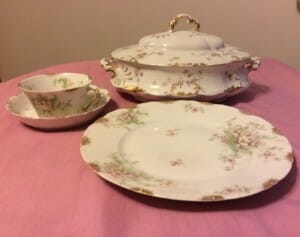 Get out your good dishes or your grandma's china. Iron your damask tablecloth, the one you store away for the nice occasion that never comes. Invite your girlfriends or your Bible study group. That's your starting point. Make your signature dish or use my sugar cookie recipe below. Provide your favorite blend of tea and/or coffee and you are ready to make it happen.
That's what one of my bible study gals did. Our two women's bible studies took a breather for the summer, but we started to miss our time together. Plus some new faces had appeared, and we wanted to provide a social time for them to work in easily and gradually into our group. Gloria has a lovely lakefront home ten miles out on the country. She set the table with her seldom used china, made quiche and cheese strata, and spread her kitchen island with a salad bar. I passed a plate of sugar cookies and peanut butter cookies, and of course, we had coffee.
Then we lingered and lingered and lingered some more. Three hours for a lunch? Why not when you love being with your sisters in Christ. The natives talked about name places of yesteryear. We moved to common topics like our memories of handwriting classes and schools moving toward eliminating cursive writing. (Believe it or not, there were mixed opinions!) We talked about the exciting ways we see God working in our midst. And we enjoyed the serenity of being ten miles away from the demands of our lives.
The afternoon talk brought back my own set of memories. When my girls were young, two other minister's wives and I would put our kids on the bus the first day of school then spend our morning over coffee talking and praying, wiping a few nostalgic tears, and talking some more. What a great way to start the school year. One problem. We forgot the cookies.
School has already started in some areas and fall bible studies are right around the corner. You don't have to be a whiz cook to be hospitable. Just put on a pot of coffee or the tea kettle, pick up the phone and invite those special ladies in your life for an hour of talk and prayer. Buy cookies if you must but these sugar cookies are really simple and quick to make. My girls dubbed them "Mom's Almost Famous Sugar Cookies." They have a unique blend of both lemon and vanilla extract. Instead of using a fork to make the crisscross design, use a metal meat mallet if you have one.
MOM'S ALMOST FAMOUS SUGAR COOKIES
1 cup shortening
1 ½ cups sugar

2 eggs
1 tsp lemon extract
1 tsp vanilla extract
2 cups all purpose flour
½ cup whole wheat flour
2 tsp baking powder
½ tsp salt
Cream together the shortening, sugar, eggs and extracts.
Stir in dry ingredients until well blended.
Drop by spoonfuls onto greased cookie sheet.
Press cookies with fork dipped in sugar in a crossed pattern (like peanut butter cookies).
Bake at 375 degrees for 10 minutes.