Here's my all-time comfort dessert – Hot Fudge Pudding Cake.
Hot Fudge Pudding Cake is an old fashioned dessert my mom used to make that has become a classic right along with Snickerdooles, Rice Pudding and cheesecake. My daughters prefer this to anything else for their birthdays. I love it so much, I'm willing to suffer the pain from my allergy to chocolate. Believe me, it is a dish that isn't much to look at but the taste is beyond awesome.
It has to be eaten within ten minutes of coming out of the oven so it isn't the greatest potluck or company dish. It can be warmed up the next day but isn't quite the same. On the other hand, this is so wonderful some of us will eat it warm, cold, lefteover—should it last so long. Some, like my husband, want to adorn it with whipped cream or ice cream? Die hards like I and my daughters don't want to minimize the awesome taste or waste time getting out the extra. Just give us a bowl of the good stuff.
So, the best way to serve Hot Fudge Pudding Cake? Invite some girlfriends over who need a chocolate fix and serve it straight out of the oven. Be sure to have the coffee or hot tea prepared beforehand. Another serving suggestion? Half the recipe and eat it in secret. But let's face it. Chocolate is twice as yummy if you can share it with someone else.
If this recipe needs any improvement, try using dark chocolate cocoa. Oh my!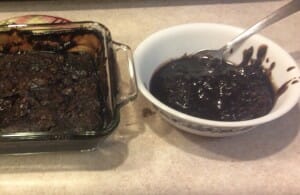 Hot Fudge Pudding Cake
1 cup flour
2 tsp baking powder
1/4 tsp salt
3/4 cup sugar
2 Tbsp cocoa
1/2 cup milk
2 Tbsp shortening, melted
1 cup chopped nuts (optional)
1 cup brown sugar
1/4 cup cocoa
1-3/4 cups hot water
Blend flour, baking powder, salt, sugar, and the 2 Tbsp cocoa in bowl. Stir in milk and shortening. Blend in nuts. Spread in greased square 9×9 pan. Mix brown sugar and 1/4 cup cocoa together; sprinkle over cake mixture. Pour hot water over entire batter. Bake at 350 degrees for 45 minutes. During baking, cake mixture will rise to the top and chocolate sauce will settle to the bottom. Cut into squares; invert each square onto dessert plate; spoon sauce over top. Or, invert entire pudding on platter. Serve warm. Can serve with vanilla ice cream or whipped cream but why would you want to do that?