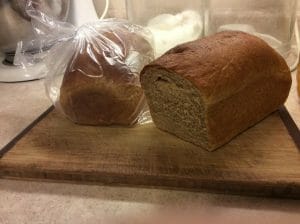 Karen's Whole Wheat Bread
Ingredients
2-1/4 cup warm water
2 pkg yeast
3 Tbsp sugar
4 tsp salt
1/3 cup margarine
1/3 cup honey
1/2 cup dry powder milk
4-1/2 cups whole wheat flour
2-3/4 cups all purpose flour (about)
Instructions
Mix water (105-115) and yeast. Add sugar, salt, margarine, honey, and milk. Stir flours together. Beat in half the flour till smooth and batter falls in sheets from a wooden spoon. Add enough flour to make a soft dough. Knead ten minutes, until smooth. Let rise in warm place till double in bulk, about 1 hour. Punch down, shape into loaves, place in two greased 9x5 pans. Let rise till double, about 30 minutes. Bake at 400 degrees 25-30 minutes. Turn out on wire racks and grease tops.
Notes
Do you have trouble getting your bread to rise? Make sure your water temperature is 105-115 degrees and all other ingredients are room temperature. When letting the bread rise, I put it in a cold oven and put a pan of steaming water inside the oven too. Your bread will easily rise the first time in one hour and the loaves will rise in about 30 minutes. Take the loaves and your pan of water out of the oven before preheating and allow for that amount of time as well.
If you want to use milk instead of milk powder, substitute the same amount of milk for the water. Warm the milk to 105-115 degrees and add your yeast. Omit the dry milk powder.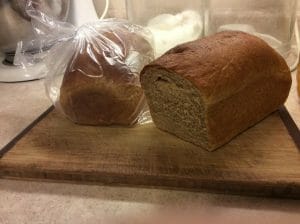 Recipe by Grace on Parade at https://karenwingate.com/whole-wheat-bread-good-enough-give-others/