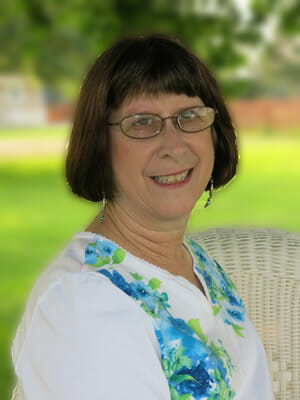 At birth, Karen Wingate's vision was like looking through a heavy shower curtain liner. Eight childhood surgeries improved her vision to a barely functional level. Still labeled as legally blind, Karen attended public school, gained three college degrees, raised two daughters, worked beside her husband in ministry in six different states, and maintained her own writing and speaking ministry.
Then her vision began to deteriorate to the point she couldn't see the far edge of a Communion tray. Through a series of God-sized interventions, she underwent surgery under local anesthesia in May, 2016 during which her doctor told her, "I guarantee you will be able to see better than you have ever seen before."
A Bible study leader, Women's ministry coordinator, and a freelance writer, Karen spent 25 years writing children's ministry curriculum for Standard Publishing, Salvation Army, and Rainbow Publishers.  She wrote devotions for Tapestry, a women's devotional magazine, for three years and has freelanced over 200 published magazine articles. She has completed three historical novels and is working on a memoir, journaling what she is seeing for the first time.
Karen works with her husband, Jack, in ministry in Western Illinois and conducts a network of local and online Bible studies, serving over 50 women.
Check back often for news about upcoming publication of Karen's books.
Read Karen's full story in the anthology, "Life Changing Miracles," published by Bethany House and available September 19, 2017.