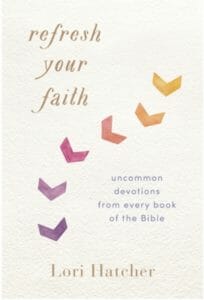 If you are look for a Bible reading devotional guide, I have a great resource for you. It's called Refresh Your Faith: Uncommon Devotions From Every Book of the Bible.
Many of my friends like to follow One-Year Bible reading plans. As I shared several posts ago, https://karenwingate.com/questions-bible/ my local Bible study group slowed the pace by committing to read one chapter a day while asking discovery questions about who God is and how He reveals Himself within each chapter. By devoting ourselves to only one chapter a day, we've delved deeper into the first five books of the Bible and discovered new details that puts the rest of the Bible narrative in perspective. It's been wonderful.
Daily Bible reading can still feel unreshing and stale at times.
[Read more…]