Club Chicken Casserole is my all time favorite main dish meal to take to church potlucks.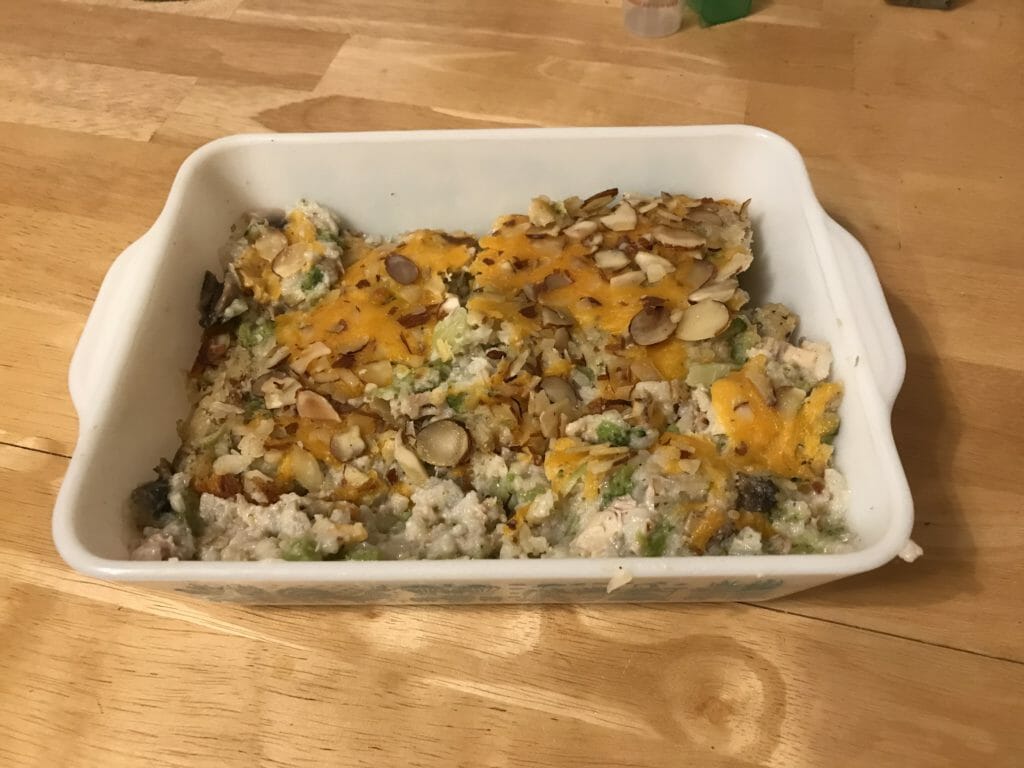 It's my go-to dish when I need to take a main dish to one of my church's quarterly potluck dinners. Club Chicken Casserole is easy, has simple, on-hand ingredients, and satisfies my obsession with bringing a healthy dish that includes some vegetables to a potluck. Leftovers heat up well and it doesn't contain canned cream soup, like so many casseroles do. In fact, I use the chicken broth collected when I cook chicken in my Instant Pot. So my chicken broth is rich and full of good nutrients without any added salt.
Okay, confession. While, like any cook, I'm delighted when I take home an empty dish, I don't mind bringing home the leftovers of Club Chicken Casserole. I love it that much. It's also tailor made for a Sunday noon church potluck because you can make it the day before and then stick it in the church oven 45 minutes before the potluck begins, adding the cheese and almonds ten minutes before it's done.
The recipe for Club Chicken Casserole is from a 1979 Better Homes and Gardens All Time Favorite Recipes Cookbook. Our family cherishes many recipes from this well organized cookbook, including baked custard, cabbage rolls, Chili Relleno Bake, Strawberry Souffle Salad, and Stir Fry Beef Asparagus. Is your mouth watering yet?
So here's my recipe for Club Chicken Casserole. Better grab a spoonful at the potluck. You might not get to take home any leftovers.
Club Chicken Casserole
Club Chicken Casserole
2 cups chicken broth
2/3 cup regular or jasmine rice
2 cups frozen chopped broccoli
¼ cup butter or margarine
¼ cup flour
1 ½ tsp salt
Dash pepper
2 cups milk
2 cups cooked chicken or turkey
½ cup fresh sliced mushrooms or 1 small can fresh mushrooms
¼ cup slivered almonds
Grated cheddar cheese, optional
In saucepan, bring chicken broth and rice to a boil. Reduce heat. Cook, covered for 15 minutes. Remove from heat. Let stand for ten minutes covered.
Meanwhile, cook broccoli according to package directions. Drain well.
In saucepan, melt butter or margarine. Sauté mushrooms, if fresh, in butter until tender. Add salt, pepper, and flour; mix well. Add milk all at once. Cook and stir constantly until thickened and bubbly. Stir in chicken, cooked rice, drained broccoli, and mushrooms, if canned. Turn into a 2-quart casserole. Bake at 350 degrees 25 minutes, covered. Sprinkle chees and almonds on top, pressing almonds gently into the casserole. Bake, uncovered, ten more minutes.
OVERNIGHT: Before baking, cover with foil and refrigerate. When ready to serve, bake, covered, in preheated 350-degree oven for 35 minutes. Add cheese and almonds as above and bake, uncovered for ten minutes.