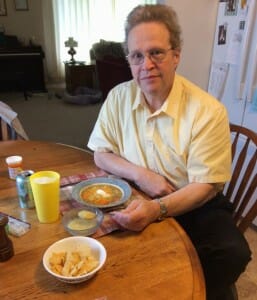 My husband is into his second week of an upper respiratory infection and I finally decided I'd had enough. It was time to get out the big guns and blast this thing once and for all. We are leaving for Arizona in a week to celebrate my uncle's life on earth and Jack is conducting the funeral. We need to get this guy well! It's time for some Pork Green Chili Stew.
For those who like spicy things and who aren't suffering tummy troubles along with whatever virus entered their system, Pork Green Chili Stew is the perfect cure-all. Hey, it has chicken broth. Doesn't that count for something?
I couldn't find the recipe I've used before. I looked at ten different recipes and didn't like any of them. So, yeah, um, I, <blush> made it up. Fortunately for me, and for you, I measured everything. Let me share my results with you. And relax. You don't have to wait till you or a family member gets sick to enjoy this succulent, sinus clearing stew.
Karen's Pork Green Chili Stew



2 Tbsp oil
½ cup diced onion
½ cup diced celery
1-1 ½ cups shredded cooked pork (or chicken)
2 cups chicken broth
1 4 oz can chopped green chilies
¼ tsp garlic power
¼ tsp salt
½ tsp red chili powder
1 tsp oregano
1/2 tsp cilantro
½ tsp cumin
¼ tsp sugar
2 medium potatoes, peeled and cubed
1 medium carrot, peeled and sliced
1 tsp cornstarch
2 Tbsp water
Heat oil in 2 quart saucepan. Add onion and celery; cook till tender. Add cooked pork or chicken, chicken broth, green chilies and all the spices. Cover, heat until boiling, lower heat, and cook for ten minutes. Add potatoes and carrots; cook ten more minutes or until potato is tender. Mix cornstarch and water together, add to stew, stirring constantly. Turn heat up to medium; stir until bubbly and slightly thickened.
Serve in soup bowls. Top with cheddar cheese and sour cream if you like and pass a bowl of tortilla chips.
What's your favorite cold remedy (other than Chicken Noodle Soup)?