I've made no secret about my love of St. Patrick's Day. It's my favorite of the second tier of holidays we celebrate in America. (See more about St Patrick's Day here.
That said, imagine my excitement when Mark Fisher told me about his novel, The Bonfires of Beltane while sitting at an American Christian Fiction Writer's (ACFW) Conference luncheon. This story follows the life of a fictional disciple of the famous St Patrick of Ireland who, through the power of the Holy Spirit singe-handedly delivered the Irish from druid worship and introduced them to the saving power of Jesus Christ. Once I read Mark's book, I was even more enthusiastic. This is a well thought out, well researched novel. It has just enough romance to satisfy the romantic among us, plenty of drama and suspense, and a meaty message of the obstacles these new Christians faced in sharing the Gospel message with those entrenched in the Celtic religions.
Mark was kind enough to let me share the backdrop of his story with you. Here's Mark Fisher and his book, The Bonfires of Beltane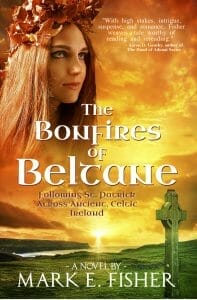 GOP: Tell us about The Bonfires of Beltane. What is the setting and time frame?
Mark: It's AD 432, and the main character, Taran, starts out on an island not far from ancient, Celtic Ireland. Powerful kings, bound to ancient tradition and advised by druids, rule their lands. The people live in communal roundhouses or isolated farmsteads. The druids worship a pantheon of pagan gods, their mythical ancestors, and the spirits of rocks, streams, and trees. Until the Roman evangelist Patrick comes along, they know nothing of Christianity.
GOP: How does Taran struggle with his faith in God?
Mark: All his life Taran has watched the druids sacrifice children to the dread sun god, Crom Cruach. Yet he knows in his heart it's wrong. He's heard of the one true God they worship in distant Britain, a God who loves, who doesn't require the deaths of children to appease an ever-present anger. Taran longs to know more about this spiritual truth. But when he confronts the druids with his questions, he must leave his beloved Laurna and all he's ever known, as they banish him from his island home. Then, in the new land of Ériu, before he finds the truth, he struggles to overcome a number of temptations.
GOP: What compelled you to write The Bonfires of Beltane? How did you become interested in this era of history?
Mark: I write because I can't not write. I've always been interested in the medieval era. I've been to Europe many times. For several years my parents lived in Düsseldorf, Germany, and in London. So I've seen the castles, the walled towns, the collections of swords, maces, torture instruments, and chain mail. And it all fascinates me. But there's not much Christian historical fiction about the era, so I'm treading on new ground here.
GOP: I have told many neophyte Sunday School teachers that the one who learns and grows the most is the teacher. I think this is true of writing as well, that we grow, learn, and change through the process of writing the novel. How did writing about the life of Patrick impact your walk with Christ?
Mark: We can learn so much from the life of Patrick that, in my own church, our elder team has decided that next year, I'll give a two-part sermon series about the lessons he gives us. He was the Irish version of the Apostle Paul. A spoiled child brought up in a Roman Britain, he was captured by Irish raiders and made a slave. Shivering, hungry, and alone on the moors while he tended sheep, Patrick turned to God and listened to His voice. Then he escaped, returned to Britain, and became a bishop. He returned to pagan Ireland to spread the gospel and plant churches. He is an example for us all.
GOP: Without giving any spoilers, tell us how God's grace changed the lives of one of your characters in a distinctive way.
Mark: Taran's search for truth made him open to receiving the gospel when he met Patrick and heard the message about Jesus for the first time. From that moment on he was a changed person. [Uh oh, not sure how to say this without it being a spoiler.]
GOP: Tell us more about yourself. Other than writing, how do you believe God has gifted you and how has he used your gifts to serve Him and His Kingdom?
Mark: I came to believe in Jesus late in life in 2007. After my baptism, I got a Masters of Ministry from the Antioch School of Church Planting and Leadership Development. My studies there—and the Holy Spirit—convinced me that our goal as Christians must not be just to sit in a pew each Sunday, but to go out, and as Patrick did, spread the gospel and plant churches. Thus, I became part of a team that planted The Gathering Church of Rochester in 2013, becoming it Treasurer, a preaching elder, and leading a community group each week in our home.
GOP: Tell us about a time God has shown you His mercy or about a time He used someone to "pass grace forward" to you.
Mark: In 2009 when I was laid off from my twenty-eight-year stint at IBM as a firmware programmer, I prayed to God what I should do with the rest of my life. He told me I should become some kind of pastor and plant a church. I must say, this was not even close to being in my plans. I subsequently got a Masters of Ministry. Then shortly after I gave up on the church-planting idea, get this—I found myself helping to plant The Gathering Church and there becoming a preaching elder and its Treasurer.
GOP: What's next from Mark Fisher? Do you have another historical novel in the pipeline?
Mark: I've completed a sequel to The Bonfires of Beltane that follows the life of Taran's son, Ty. I'm also half-way through a third book, but I'm now thinking this should be the second book in the series. I'm also working on a Christian fantasy series.
GOP: How can we get a copy of "The Bonfires of Beltane?"
Mark: You can learn more about the book and find links to order at: www.markfisherauthor.com/Marks-Books. Or you can find the book on Amazon.
More about Mark Fisher
Mark wrote his first twelve pages at the age of ten, complete with drawings of a prairie fire, Indians, and a stampede. More recently he's been writing Christian historical fiction in an early medieval setting. His writing career only began in earnest after his baptism into Christianity, after twenty-eight years working for IBM as a computer programmer, and after completing a Masters of Ministry. Mark and his wife like to travel, with recent trips to Japan, Ireland, Italy, and France. When he's not working for the church he helped plant in 2013, he's walking his dog or at his desk writing.
The Bonfires of Beltane
Since before anyone can remember, Taran's Celtic, island people have sacrificed children to Crom Cruach, the dread sun god. His whole clan accepts this atrocity, yet in his heart he knows it's wrong.  Now, Taran is about to be inducted into his clan's circle of leaders. He promises Laurna, his betrothed, he'll hide his doubts. But at the ceremony beside the bent idol of gold, he can't help but question the druids' rule. He blames the clan's miserable fortunes on Crom Cruach, calling it a demon.
As a result, the druids order his banishment. Instead of a wedding with Laurna, he faces a tearful parting. As a storm darkens the horizon, Taran paddles his wee craft into a vast, raging sea. Thus begins Tarans adventure in A.D. 432.
Beyond the sea lies ancient, Celtic Ireland. There wait the Roman evangelist, Patrick, and two kingdoms ruled by powerful kings and their druid advisors. It's a proud land where tradition is everything and travel through the wild can mean slavery or death. The druids will stop at nothing to remain in power and prevent Patrick and his followers from changing their ancient ways.
Will Taran find the spiritual truth he desperately seeks? Can he escape wrathful kings and conniving druids? Will he ever be able to return home and rejoin his beloved Laurna?