Mmm-mmm. Coconut cream pie.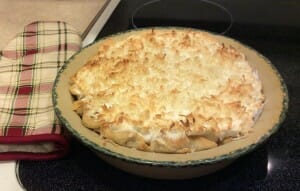 I posted this picture of a coconut cream pie I was making for a church dinner on Facebook and was amazed at how many friends responded with "That's my favorite."
I made this pie and a lemon meringue pie for a dinner I was hosting for the elders of our church and their wives, and our staff. It was my Christmas gift to them with a heartfelt thanks for all they do and all they are.
Church leaders bear more burdens than the average pew sitter will ever know. There is worry over the church budget and security issues. Each week, leadership looks over the congregation and knows the confidential hurt and pain so many face. Then there's the constant line of complaints – some legitimate and some so paltry, leaders don't know if they should laugh or cry—but each must be taken seriously because it's important to that dear brother or sister.
So, yeah, a pasta dinner with homemade rolls, Seven Layer Salad, and 2 pies seems like a small way to say thank you to such an awesome group of men and women. But I'll tell you this. It means the world to them to have folks come alongside them and say, "Thank you for what you do. I'm praying for you and you are doing a good job."
Here's my recipe for Coconut Cream Pie. One person asked if it was more than coconut sprinkled in vanilla pudding. Sorry to say, that's what my recipe is, but I've found the secret to a good coconut cream pie is to make a homemade pudding base, be generous with the coconut, and buy a fresh bag of a good quality name brand coconut.
Maybe you can share your results with your church staff or lay leadership.
COCONUT CREAM PIE    
1 10-inch single crust pie shell, baked
1/3 c sugar or artificial sweetener
¼ c cornstarch
1/8 tsp salt
2 ½ cups milk
1 tsp vanilla
2 Tbsp margarine
1 1/3 cup coconut.
3 eggs separated
¼ tsp cream of tartar
¼ cup sugar (can use artificial sweetener but I'd mix half sugar/half A.S. because Splenda makes the meringue turn a strange color)
In a heavy sauce pan, mix the 1/3 c sugar and cornstarch.  Add milk slowly and mix well. Stir over medium heat, until mixture reaches a boil. Separate eggs; beat egg yolks in bowl.  Add about ½ cup of the hot pudding mixture to the egg yolks, a tablespoon at a time, beating well, each time.  Add egg mixture into pudding mixture. Allow to oil , stirring constantly 2 minutes.  Remove from heat. Add margarine, vanilla, and 1 cup flaked coconut.  Beat egg whites to soft peaks.  Add cream of tartar and sugar; beat to stiff peak.  Pour pudding mixture into pie shell. Top with meringue, sealing to edges.  Sprinkle 1/3 cup coconut on top. Bake in 350 degree oven for 15 minutes, watching carefully and rotating pie if needed.
Sometimes I cheat and use a box of Cook and Serve pudding if I'm running short on time.  Sugar Free Cook and Serve Vanilla pudding will work too—if you can find it in your local store.
What's your favorite way to bless your church leadership?
What's your favorite food gift at Christmas?