Do you have hungry children at your church?
You probably do. Even if you live in a rural town like I do, there are probably children attending your children's ministry programs who are hungry. Either their parents fall below the poverty level, or Mom and/or Dad aren't taking proper care of them. So they come to church lethargic or overactive from eating any empty calories they can grab.
What's the solution? Feed them!
I just found two recipes that would be great, easy to prepare, easy to freeze food choices for you to share with the hungry children who come to your children's programs. Egg Sausage Muffins are a great way to feed early arrivals Sunday morning and Pumpkin Oatmeal Bars are a healthy snack anytime.
Recently, a public school teacher told our Women's Fellowship group that 85% of the children who attend our local rural junior high are below poverty level. While we didn't anticipate that high of a percentage, we weren't surprised. Our little congregation has eight children arriving early Sunday morning who have told of walking to church while mom is still asleep. They arrive hungry. So our good ladies have started to feed them – granola bars, egg casseroles, grapes, cheese quesadillas, sausage balls, string cheese, and other nutritious goodies. I love the attitude of one woman: "If God sends us people who need food, I'm going to feed them."
If you have hungry children entering your doors, what an open door of ministry you have.
As you sit down at the table with the children in your room to share their meal with them, you have an awesome chance to build relationships, pray with them, and show them that you care. When you feed their bellies good nutritious food, they'll be ready for you to then feed their hungry souls.
Here are just two recipes you can use to feed the hungry children in your church.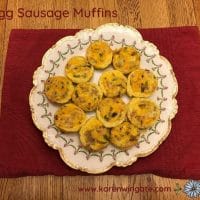 Egg Sausage Muffins
Do you have hungry children coming to your church, children who didn't get breakfast? These are a great nutritious snack to fee their tummies before you feed their souls.
Print Recipe
Ingredients
8

large

eggs

1/4

tsp

salt

1/4

tsp

pepper

Dash

hot sauce

1/2

cup

milk

2

Tbsp

flour

1/2

lb

bulk sausage

1/2

cup

diced bell pepper

1/2

cup

diced mushrooms

3/4

cup

grated cheddar cheese
Instructions
Preheat oven to 350 degrees. Break eggs into a medium mixing bowl, add salt, paper and hot sauce; whisk until combined. Stir together milk and flour; add to egg mixture and mix well.

Crumble and brown sausage in skillet. Remove with a slotted spoon and add to eggs. In the grease remaining in the pan, saute the bell pepper and mushrooms until limp, add to eggs. Add cheese and mix thoroughly.

Spray a muffin tip with oil spray, making sure to get spray up the sides of each muffin cup. Using a 1/3 measuring cup, ladle egg mixture into the muffin cups. There should be enough for 12 cups; if you have extra, pour the rest into individual greased custard cups. Bake for 20-22minutes until puffy and barely set.

Remove from oven and let set five minutes. Run a knife along edges of each muffin cup and lift the out of the pan.
Notes
To freeze: place in plastic zipper bags and freeze. To thaw, place in refrigerator the night before and then reheat in the microwave when ready to serve.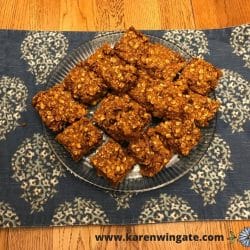 Pumpkin Oatmeal Bars
Nutritious and tasty – pumpkin bars are a kid friendly and kid healthy treat.
Ingredients
2 1/2

cups

old fashioned rolled oats

1/4

cup

whole wheat flour

1/4

cup

packed brown sugar

1

tsp

baking powder

1/2

tsp

salt

1

tsp

ground cinnamon

1/2

tsp

pumpkin pie spice

1

tsp

vanilla extract

3/4

cup

canned pumpkin

1/2

cup

milk (or almond milk)

1

large egg

1/4

cup

molasses

1/2

cup

chocolate chips or cinnamon chips
Instructions
Preheat oven to 350 degrees. Lightly spray 8×8 square pan withcooking spray.

Mix together oats, flour, brown sugar, baking powder, salt, cinnamon, and pumpkin pie spice.

Add the vanilla, pumpkin, milk, egg, and molasses. Mix together until evenly combined. Stir in chips. Do not overbeat.

Pour mixture into pan and bake for 25-30 minutes oruntil baked through in the center. Allow to cool and cut into bars.