I'm looking for easy recipes these days.
Easy, healthy, and quick without having to resort to prepackaged dinners. I think I've found a winner that I want to share with you – Joe's Special.
Joe's Special is a delectable mixture of hamburger, spinach, mushrooms, and onions scrambled together with a couple of eggs and topped with Parmesan. Low carb, nice and protein-y, and an all-in-one dish that includes the veggies. If you need your carb fix, accompany the dish with a loaf of sourdough bread or pita bread.
My Fanny Farmer cookbook calls it Little Joe's and said it has a San Francisco flavor.
That's misleading, because when I googled Little Joe's, I read lots about a famous Italian restaurant called Little Joe's, that spilled over the side of San Francisco's Chinatown. Here's a very interesting link about a local restaurant gone famous, but alas, no mention of the spinach/hamburger dish. With a little more research, that's when I found the recipe is really called Joe's Special and it was popularized in another San Francisco Italian restaurant called Original Joe's. The dish became so popular in a number of San Francisco restaurants, that one San Francisco mayor once dubbed the dish "famous."
That makes me think of the story behind the Mexican chimichanga, which originated in Tucson, Arizona's famed El Charro Mexican restaurant. The story I grew up with was the restaurant owner was running out of food when a large group came in the restaurant mid-afternoon. She threw together what she had, wrapped it in a tortilla, and deep fat fried it. When asked the name of the dish, she blubbered, "Umm," and made up a word. "Chimichanga!" It stuck.
Happy sigh. I love food history.
I rediscovered this dish when I needed a fast meal after my diabetic husband had been exposed to too many carbs in the previous two days. It was perfect and is going in my rotation for fast easy meals over the next few months when my writing and ministry responsibilities ramp up.
This recipe is very adaptable. You can easily cut the recipe in half if there are just two of you, or half again, using 1 egg for just a single serving. Adjust the mushrooms and onion to taste. I've changed the recipe in the book to use fresh mushrooms because I like fresh mushrooms. But you can always keep canned mushrooms on hand, which might be more convenient for you.
If your schedule is getting filled to overflowing and you're scrambling for easy, but you want to stay with healthy, from-scratch meals, try Joe's Special. Or Little Joe's. Whatever. Make up your own name. It's good whatever you call it. And yes, this is straight out of my Fanny Farmer Cookbook, circa 1979.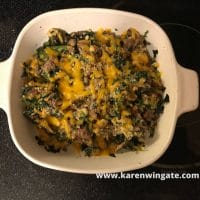 Joe's Special (Little Joe's)
When other life matters are more important than what I fix for supper, I like to have a few recipes in my card file that are quick to fix, nutritious, and with ingredients I can easily keep on hand. Joe's Special, a delicious dish from San Fransisco, fits that need beautifully.
Print Recipe
Ingredients
3

Tbsp

oil

1

cup

chopped onion

1/2

cup

sliced fresh mushrooms

1

lb

lean ground beef

1

lb

fresh spinach, blanched, drained, & chopped OR 1 16 oz bag frozen spinach, cooked and drained

Salt to taste

Tabasco to taste (optional)

4

eggs, beaten

Parmesan or Cheddar cheese
Instructions
Heat the oil in a large skillet, add the onion, and cook over medium heat until the onion is soft. Add mushrooms and cook until the mushroom turn soft.

Add the beef, mixing with the veggies and breaking it up into small bits with a fork, cooking until the redness is gone. Drain any grease.

Add the spinach and mix well. Stir and cook for about 3 minutes, then salt to taste.

Mix a dash of Tabasco with the eggs, then pour over the beef mixture and stir until the eggs are set. Remove from heat and serve, sprinkling a bit of cheese on top of each serving.