Cookies. Care packages. College Students. Campus Ministry. Blended together, those four ingredients can create one awesome outreach.
If you haven't figured it out yet, I love ministry to college students. College is a formative time of life, when young men and women are searching to take ownership of their relationship with the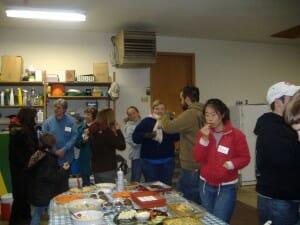 Divine. It can also be a lonely, disorienting time where familiar speeds away with the disappearance of their parents' car and they are left to figure life out on their own – whether it's what to eat, when to go to bed, what classes to sign up for next spring, or who or what to believe.
What says the familiar more than a batch of homemade cookies or a homemade meal? My campus ministry friends Jill Vogel (who gave me this awesome recipe for her version of oatmeal chocolate chip cookies) and Barry Reed, ministry director of Campus Students for Christ "get it.'
My church ladies are working hard this week to make 500 cookies so Barry can distribute cookies at five locations throughout one week to university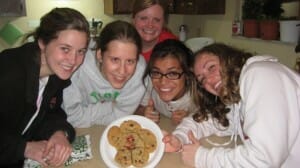 students. It's not just about the cookies. Barry is praying—and would appreciate your prayers—that a cookie would lead to a meaningful conversation, talks that delve into who and what to believe in.
This particular recipe for chocolate chip cookies became Jill's signature in her work with a campus ministry at The Ohio State University. Her cookies were sure to show up at most any event the campus ministry hosted. Several times, Jill invited young women to her home to make cookies, then would use the time to teach her secret tricks in making them the best ever cookies. Jill has a natural instinct for drifting the talk into deeper spiritual matters. We grew to love and honor this sweet servant of God who exhibited wisdom beyond her years.
How can you start a conversation about Jesus? Start with a cookie, do a lot of praying, and see where it leads.
Jill's Best Ever Chocolate Chip Cookies
2 ½ cups oats
2 cups flour
1 tsp baking soda
1 tsp baking powder½ tsp salt
1 cup white sugar
1 cup brown sugar
2 sticks butter, slightly melted (MUST be butter)
2 eggs
1 tsp vanilla
1 cup chopped nuts
1 12 oz bag chocolate chips
Grind oats in a blender or food processor until part of the oats look like a coarse flour. Mix ground oatmeal with flour, baking soda, baking powder, and salt. In a separate bowl, mix sugars, eggs, butter and vanilla. Add flour mixture to sugar mixture; blend well. Stir in chocolate chips and nuts.
Drop by spoonfuls on a parchment paper covered cookie sheet. Bake at 350 degrees for 9-11 minutes. The cookies will take longer to cook if you use parchment paper. If not, watch carefully to not overcook. How quickly the cookies cook depends on your oven and your cookie sheets. Take out of the oven just before they are done and let them set 3 minutes on the pan before removing to a wire rack.
Makes 6 dozen cookies.