Do you have friends who struggle with Celiac Disease, gluten intolerance, or just prefer to stay gluten free? Next time, you're in a group gathering, consider making a gluten free Apple Crisp. Your gluten conscious friends will be delighted at your thoughtfulness.
While we aren't gluten intolerant, our family loves Apple Crisp. I call it my healthy dessert because it's full of the goodness of apples and oats. It's also easily adaptable to meet various health needs. I use half brown sugar and half Splenda for the sake of my diabetic husband. My recipe calls for ½ cup flour so I replace the white flour with whole wheat flour to make the carbs more nutrient dense. Alas, flour has gluten. For my recipe, I've replaced the flour with more oats and have ground part of the oats to make a course flour. That is a bit more work!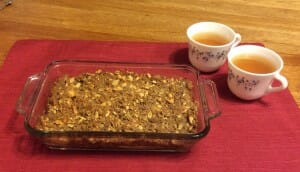 My literary agent, Linda Glaz, has a great recipe for gluten free apple crisp that also reduces the amount of processed sugar and is simpler than my adaptations.
Linda says she uses organic oats. While oatmeal is gluten free, for those who are very sensitive to gluten, Quaker Oats can be contaminated with other products. If you buy organic, Linda says, you have a better chance of avoiding cross contamination.
Here's Linda's recipe for Apple Crisp:
5-6 sweet apples. (If they are the firmer type, just slice VERY thin.) Put about 1/3 cup oats in the bottom of a 9×13 pan. Spray or butter it first.

Slice apples into pan. After the first 3, add about 1/2 c white sugar or 1/4 c stevia and 1/4c sugar. (YOU can use all stevia which I usually do if it's just for me, but for others I use all sugar or 1/2 and 1/2. Then finish slicing apples. Cover with another 1/2 cup of sweetener plus 1t cinnamon.

If they (the person who is gluten intolerant) can have cornstarch, I put about 1T of organic cornstarch in the sweet mix to thicken the apples just slightly, but it's good without as well.

I use a good 2-3 cups of oats, I love it thick on top. A stick or butter OR even better, 1/2 stick and1/4 c coconut or mild olive oil. Add 1T brown sugar plus 3-4T stevia. Also, you can add 1/2 cup of chopped nuts, Walnuts and pecans. Gives it some protein and
is really delish in the topping. Be sure the oats glisten a bit, if not, add a tad more oil. They should have a light glisten to them.

Bake in 375′ oven for 50-60 minutes. If the top is browning too much after 30minutes, turn the heat down to 350. Push a fork in to be sure that the apples are super tender.

That's it. Put on some vanilla ice cream or whipped cream and enjoy!
Linda Glaz is one super agent who works for the Hartline Literary Agency, and is an encourager extraordinaire. Not only does Linda mentor and champion all her clients, she is also an author and a blogger. Linda writes on the writing life.
You can check out some of Linda's latest titles here