These scones make the perfect treat for a ladies' bible study, tea with a friend, gift for someone having a down day, or a special Saturday morning breakfast.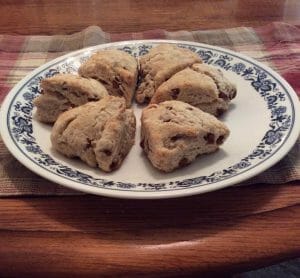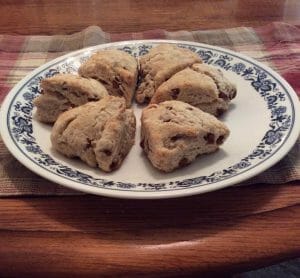 Print
Cinnamon Chip Scone
Yield 12
Ingredients
2 cups flour
2 T sugar
1 T baking posder
½ tsp salt
1/3 cinnamon chips
6 T butter
1 egg
½ cup milk
Instructions
In a bowl, thoroughly stir together the flour, sugar, baking powder, and salt. Cut in the butter till the mixture resembles coarse crumbs. Stir in the cinnamon chips.
Beat the egg and milk together in a separate bowl; add to dry ingredients, stirring just till the dough clings together.
Knead dough gently on lightly floured surface, 12-15 strokes until smooth.
Divide dough in half. Shape into ball and pat into a 6 inch circle, about ½ inch thick. With a sharp knife, cut each circle into six wedges. Place wedges on ungreased baking sheet (do not have sides of wedges touching).
Bake at 425 degrees till golden brown, 12 to 15 minutes.
Courses Quick Breads