Finally! I made cut out Christmas sugar cookies that worked!
Over the years, I've been so frustrated by cut-out cookies. I love to cook. I consider myself a fairly good cook. But cutout sugar cookies would strip me of any pride over my cooking ability with one flyby of a rolling pin. I cringe to admit there were days the effort stripped me of my Christian character as well. These cookies, more like sweet pie dough than cookie dough, roll out beautifully. They stick together and need a minimum of flour.
I can't take credit. This recipe comes from Anne, The Anne, who in spite of severe arthritis, makes these wonderful cut-out cookies to donate to our University campus ministry cookie outreach. Anne is one of the sweetest ladies I know and her love for Jesus ebbs from every pore. She made and sold cookies and cakes as part of her own little cottage industry. You can read more about Anne here. Today arthritis and a series of strokes have stopped most of her baking. Anne admitted to me that she also has been frustrated by other recipes. Over the years through her baking industry, she has made literally thousands of cookies from this recipe. That's not pride talking. that's just fact.
I didn't ice mine because, well, that's another grr. But Anne told me how to manage that. Mix together 1 egg white and enough powdered sugar to make the icing a spreading consistency. Add a little water if you need to. Then use a paintbrush to apply the icing. Not a knife! Oh Anne, you are brilliant. I need to make another batch just so I can try this.
I posted a picture on Facebook of my success and someone echoed my frustration over Christmas sugar cookies. I'm so thrilled with this recipe, I want to share it with you.
So if you share the recipe with anyone, do me a favor. Don't tell anyone the recipe came from me. Instead, make sure you call them "Anne's Sugar Cookies" and mention that they come from a very sweet lady.
The best part of my cookie baking session? I took a plate of cookies to Anne to share my delight. Her husband, Mike, immediately reached for one of the cookies. Yes!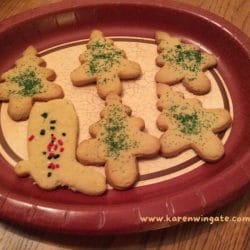 Anne's Sugar Cookies
This recipe for cut-out sugar cookies is the best I've discovered. Easy to roll out, so tasty, and filled with memories of a brave and godly woman.
Ingredients
3

cups

flour

1

cup

sugar

1

tsp

baking powder

1

tsp

salt

1

tsp

baking soda

1

cup

shortening

2

eggs

2

tsp

vanilla
Instructions
Mix the flour, sugar, baking powder, baking soda, andsalt together in a large bowl. Cut in the shortening like you would for piecrust.  Beat the eggs and vanillatogether in a small bowl. Make a well in the middle of the dry ingredients,pour in the egg mixture and stir until the dough clings together. (Anne saysshe uses her hands for this step.)

Dust bread board and rolling pin with a bit of flour.Using small amounts of dough at a time, roll out to desired thickness and cutin desired shapes, placing on an ungreased cookie sheet. If you want a softercookie, roll out thick. If you want a thin, crispy cookie, roll out thin. 

Bake at 400 degrees for 8-10 minutes.
Notes
Karen's Note: If you don't want to ice, these taste good just plain. You can also sprinkle colored sugar on the cookies before baking.