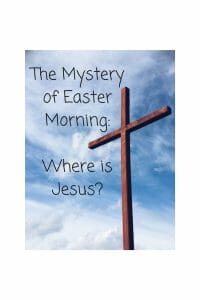 God used a five-year-old to remind me of the significance of the resurrection of Jesus.
It was Sunday morning, the fifth session of our church's five-day revival. Throughout the revival, the children's program had discussed the final week of Jesus' life. The final session planned to cover the resurrection of Jesus. That morning, Johnnie, the son of one of the teachers, met me at the top of the stairs leading to the children's department.
"The body is gone. The tomb is empty." He grabbed my hand. "Come look."
His nose wrinkled and he waved his free hand, instant indicators that this was serious. Johnnie had a problem to solve. What had happened to Jesus?
Each evening, I had led the music for the children's program, then left to sit in the adult sessions. I had little idea of what activities the children did each night and what had led up to this moment. Yet, intuition told me to not spoil the story and instead, feed into Johnnie's concern.
We knelt before the makeshift tomb. "Look, Johnnie," I said. "The blanket the disciples wrapped around Jesus' body is in one big heap."
"I know," he said, emphasizing each word. "The body is gone, and I don't know where it is. It's just gone!""
Later, teachers told me the rest of the story. The night before, they talked about Jesus's death and why He chose to die. With adult help, the children wrote kid-sized sins on pieces of paper and tacked them to the cross. They took a paper Mache puppet that represented Jesus, wrapped it in the blanket and placed it in the tomb. Before the children arrived Sunday morning, teachers removed the puppet. Johnnie discovered the removal shortly afterward.
While I led the children in singing in one classroom, a teacher slipped into the other room and removed the pieces of paper from the cross. She came back to begin the story and escorted the assembled class to the entrance of the tomb. Yes, Jesus was gone, they discovered.
Before a teacher holding the risen "Jesus," caught their attention, Johnnie glanced upward toward the cross. "Look!" he shouted with renewed vigor. "The sins on the cross are gone too!"
Johnnie got it. Jesus' body was gone and so are our sins. When Jesus died, he took our sins with him.
Romans 8:1,2 says,
Therefore, there is now no condemnation for those who are in Christ Jesus, because through Christ Jesus the law of the Spirit who gives life has set you free from the law of sin and death.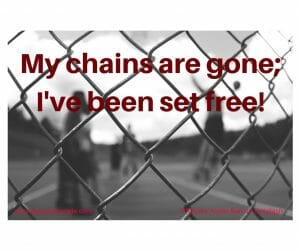 Chris Tomlin added beautiful words to the classic hymn, "Amazing Grace."
My chains are gone, I've been set free
My God, my Savior has ransomed me
And like a flood His mercy reigns
Unending love, amazing grace.
Where are those sins? Will they flit around like demons, taunting me that their stain will once again attach itself to me, daring God to renege His once-and-for-all offer of forgiveness?
Corrie ten Boom spoke words that have breathed life into my fading soul many times:
"God takes our sins – the past, present, and future – and dumps them in the sea, and puts up a sign that says, 'No fishing allowed.'"
They are gone. Their incrimination is gone. The stain of guilt is gone. In God's mind, because of His power over sin and death, those sins no longer exist. They are buried in the deepest sea. They are as far as the east is from the west (Psalm 103:12), and you can't get any further.
That's what Easter is about.
Easter celebrates far more than a man coming back to life to prove He was more than man. The resurrection of Jesus unloosed the chains of sin and set us free from the power and punishment of sin. Death is the ultimate punishment for sin. Jesus' victory over death sets us free from the fear of death because He has taken away our sin.
What have you done in your life that has caused you lingering shame? Have you done things that still hang around your neck with the weight of a bowling ball? Deeds you can't bring yourself to admit to anyone?
Get a piece of blank paper. Write down those things you know are wrong. Whisper each one to God and tell Him you are sorry. Then wad up that paper and bury it in the bottom of your trash bin. Better yet, burn it.
You are set free from the bondage of those misdeeds. In God's mind, you are forever forgiven.
Let them go. Let Jesus take them away. Allow His forgiveness to claim you and remake you into the kind of person He's designed you to be.
It's Easter weekend, the best holiday of the year.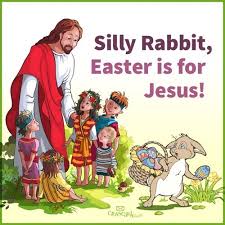 Forget the peeps, the bunnies, and the Cadbury eggs. Easter honors the greatest event in human history: the death and resurrection of Jesus Christ.
I love Easter. I love to dye Easter eggs with kids. Now that my girls are grown and gone and all the kids I know are on the busy side, I dyed eggs by myself this year. Like my Grandma Sharp who stood over Grandpa and all the grandkids as we dyed the eggs, I've always stood in the background making it happen for everyone else. This year, I mixed and blended and added more color to create more intense colors and wondered why my eggs were turning out splotched and laughed at the green speckles on my white eggs because my green dye splattered when I poured in the hot water and . . . sigh. It was so much fun.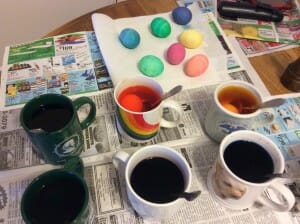 All the while, whether I have twenty-five kids lining a banquet table in my backyard or it's just little ole' me at my newspaper lined dining table, I remember the reason why I'm doing this. It's not because I hate Easter egg hunts and would rather make 'em than find 'em. It's not because Jesus' resurrection is any where near the celebration of new birth that happens to a chicken. Because it's not. It's so much more. I'm celebrating my Lord's return to life so that I and the whole world would not have to fear death ever again. Because of Him, I can experience release from guilt and liberty from the clutches of sin and self bondage.
It's a week to rejoice, sing, share Communion, and listen to the wonderful message of the Cross over and over again—whether it's a Seder meal, Good Friday service, working with church ladies to make Sunday breakfast for 75 people, Sunrise service, or gathering with my wonderful church family as we are all together Easter morning for the main worship service and we shout together to whoever wants to listen, "He is Risen!"
As wonderful as Easter is, it leaves our ministry family a tad exhausted so my husband and I disappear for a few days afterwards. This year, we're loading up our Escape and taking the rest of our daughter's possessions to her new Army post where she starts Monday as a military optometrist. I've even cancelled the next week of our Bible Study, "Really Bad Girls of the Bible." Starting the week of April 13th, we'll study the woman caught in adultery as described in John 8. I've always wondered why the Pharisees didn't haul her lover in front of Jesus as well. No matter. She's a great character to discuss the week after Easter because the One who had every right to condemn her for her immoral choices chose instead to forgive her.
As I wish you a special weekend of celebration, let me share the words of one of my favorite Christian songs by Petra that says it all. Whisper the words to yourself and don't forget the motions. Let your mouth and your hands express your deepest worship to a God who cared enough to send His very best.
Lord, I lift Your name on high
Lord, I love to sing Your praises
I'm so glad You're in my life
I'm so glad You came to save us.

You came from heaven to earth
To show the way
From the earth to the cross
My debt to pay
From the cross to the grave
From the grave to the sky
Lord, I lift Your name on high
Have a Blessed Easter!