What are your goals for 2016?
I've shared before on this blog my approach to New Year's Resolutions. Like many people, I prefer the word "goals." Goals are something you reach for. If you don't reach your goals for one reason or another, you can find satisfaction that at least you tried. I want to make sure I reach my goals, so I go through quite a process in choosing my goals for the coming year.
The week between Christmas and New Year's Day is a time of much reflection for me. In determining my goals for the New Year, I make several lists:
What happened in the previous year.
What I think will happen in the coming year (graduations, trips, moving).
What ongoing obligations do I have and what I can cut out
What I would like to see happen
What books I would like to read.
And finally,
My second list—what I think will happen in 2016—stalled my efforts.
My husband and I have been in that transition part of life from child raising to empty nest for the last seven years. Each year, we could predict several seasons of graduations, moves, and goodbyes as our girls revolved through college doors, moving vans and airport security. In the last year, both landed in apartments of their own and became tax paying citizens. My husband and I did high fives. We accomplished our role as parents.
And so, for the first time in a long time, there is nothing on our radar. No graduations, no moves, no significant birthdays or anniversaries. We fear we may need to say goodbye to some older family members this next year, but God holds the reigns of life and death.
And I find myself tired. At this point, I lay down my pen and wondered why I go through the whole goal setting process. Why couldn't I for one year just coast? Just keep doing what I do on a day-to-day basis. Read whatever books come my way. Teach my bible studies, lead music at church once a month and go to my knitting class. Doing anything new sounds like too much effort. I'm tired, God. Can I have a break?
My brain immediately thought of David. In the springtime, when most kings went off to war, David stayed home and let Joab fight his battles. David was reaching midlife and he wanted to coast. Take afternoon naps. I'm tired, God. I'm tired of running, of fighting, of finding new vistas to conquer. Can't I just relax, do what I want to do for a change, enjoy life, and, oh look, isn't that woman beautiful?
When David coasted, he hit a slick spot, slid out of control, and made some bad choices that rippled into the rest of his rule. I don't want to do that.
I'm not saying we should never seek respite or vacations. Burnout has its own set of unintended consequences. I want to avoid the pitfalls of coasting. I want a controlled coast. I don't want to shy away from opportunities God might have lurking just the corner.
But, but . . . I'm tired.
God isn't. He never gets tired (Isaiah 40:28). He doesn't burn out. Whatever he has waiting for me, He and I can do this together. Even if I've had it with frenetic activity, I can do whatever He has waiting for me if I do it in His strength.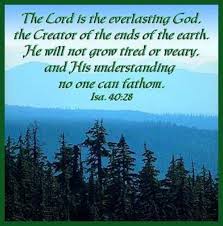 After all, He is in the business of doing the impossible.
So this year, my goals are simple. Be in prayer mode. Be on guard. Watch and pray. Get the rest I need with one eye open so I don't fall into complacency. Be ready for what God has waiting for me. Watch and look for the ways God is working and dig deep for the courage to stand and follow where He leads.
It's going to be an exciting year!