I want to be a breakfast hostess at a nice hotel when I retire.
While my daughter, her two friends, and I attended the International Conference on Missions (ICOM), we stayed at a Wingate Inn. The name similarity is only consequential but our family has a lot of fun watching the consternation of desk clerks. Fortunately, the breakfast clerk didn't know my last name. I don't think it would have mattered.
This woman downright spoiled us. She picked up our dishes, asked if she could get us anything, brought me a lid for my to-go cup without my asking, and offered to get a plastic bag to protect my ICOM program guide from the rain. She greeted us both mornings with a smile and asked us if we had slept well.
I about cried!
I cry easy, what can I say? I mostly cry when people do nice things for me during times of stress. For three long weeks, I'd been caring for a sick husband while trying to nurture the women in my church and plan my daughter's wedding. I came to the conference exhausted and nearly on empty. Having someone care for me, even such a small thing as getting a coffee cup lid, was so nice.
It's easy to believe that the preachers, song leaders, praise teams and bible study leaders are the important people in God's kingdom. As a bible study teacher and worship leader, I can tell you that is so not true. We need everyone. Behind-the scenes people are actually the most important people. Without them, the up-fronters, as we call them, could never fulfill their jobs. All of us need encouragement, care, and pampering. You never know what someone might be facing and the burdens they shoulder. Your random act of kindness, or expression of concern might be the one thing that diffuses the time bomb of stress about to explode in a stranger's life.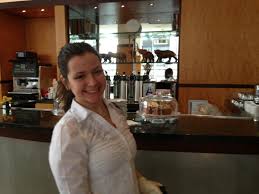 Caring for others' needs can become a ministry of its own.
Megan, one of my daughter's friends, told of a bus driver who had that attitude about his job. His bus became his sanctuary, the people on his bus became his flock. He approached every passenger with the attitude of, "How can I serve this person today?'
Wow! Think of the good that would spread if every Christian approached their job with that outlook.
How can you turn your job into ministry?
Start small.
Pray for opportunities.
Before you enter your workplace, ask, "Who can I bless with God's love today?"
Pray for the people that intersect your path.
Determine to do one random act of kindness a day.
Show interest in one other person's life events each day.
Finally,
Show appreciation for the people who show kindness to you. Megan led us in writing a thank you note to Pat, our server, and bought her some flowers. The smile on our hostess' face warmed our hearts and filled us with joy that lasted long after we checked out of the Wingate Inn.
And to think it started with the offer of a coffee cup lid.
What small act of kindness can you do for someone within the context of your job today?