Did you pick up on all the Easter celebrations on Facebook?
There were plenty of greetings and memes declaring the reality of the Resurrection. I loved reading my friends' proclamations of their faith in Jesus. But that's not what I'm talking about. On Facebook, I saw three true celebrations of Easter: ones that went beyond candy and eggs and Easter bunnies. Celebrations that reached past the words and the worship experience. Celebrations that mirrored what Jesus did that historic day over two thousand years ago.
Here's how I saw people celebrating the best holiday of the year:
Roseville Illinois: The local minister's alliance sponsored an egg hunt. Okay, lots of places have egg hunts. There are several significant parts to this story. First, a minister's alliance, a loosely knit group of four area churches, worked together to stage this first egg hunt in Roseville history—or at least the first in many years. Over two hundred parents, grandparents, children, and local onlookers crowded the small town park on a chilly day to revel in "The Hunt." All week, the weather forecast predicted rain, then clouds. At 10:45, when the youth minister of the Christian Church shouted, "Go!" the sky was sunny with just a hint of breeze.
Other activities included a Bounce House, a $3 hot dog lunch, and raffled Easter baskets. All proceeds, after expenses, went to the Minister's Alliance
who will use the money for benevolence needs and to support the local food pantry. No, it wasn't just an egg hunt. The event launched a whole lot of good things that passed forward the blessings of God's grace.
St Lucie County, Florida: A sheriff's department bomb squad in Florida held a different kind of Easter egg hunt, this time for a niche group of children. Have you ever stopped to think of how blind and visually impaired children participate in Easter egg hunts? I have—all too painfully, I'm afraid. Like not at all, or with much frustration and shame because of teasing from bigger kids who don't get it that the child can't see. My friend, Carmalee, posted a video on her Facebook page that told about this bomb squad who provided "beeping" plastic eggs so children could find the eggs by honing in on the auditory signal. With a bit of research, I discovered that various groups, including police, Boy Scouts, the Pioneers, and Lion's Clubs throughout the country hold "beeping" egg hunts. The video showed children blindfolded so both fully sighted and partially sighted children can participate together.
If you know a visually impaired child, you don't have to look for a sponsored group to do this. One mother commented on the Facebook site, "My daughter is blind. We bought key finder key rings and put them inside plastic eggs. She walks around clapping her hands. If she is close enough to one of the eggs, it starts to beep. She is able to find them and join in with the hunt alongside her sighted brothers. A much cheaper alternative to beeping eggs." That's gare—making an event possible for those who couldn't participate otherwise.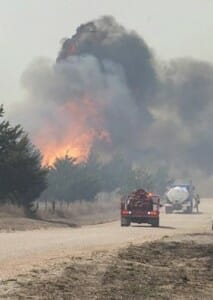 Coldwater, Kansas: Tragedies, crises, and emergencies hold no respect for olidays. In the midst of Holy Week, a grass fire exploded out of control in northern Oklahoma and quickly spread through two Kansas counties, claiming over 400,000 acres of farmland and several homes. We used to live in Coldwater. It was wrenching to hear reports from friends who told how they were waiting for evacuation orders, their weary husbands had just returned home from fighting the fire only to be called out again to fight a fresh outbreak, and the report that the fire, "is at the end of my driveway."
Facebook got flooded with assurances of prayer. The word kept coming back. "We need rain." But no rain was in the forecast. Then one of my friends said on Facebook, "We're getting sprinkles at our house." I looked at the weather radar. A green clump seemingly coming out of nowhere, lay on top of Comanche and Barber Counties. The next night, the evening before Easter, the area got one to three inches of snow! Yes, there was much jubilation at the grace of God.
God's grace burst forth in far greater ways than an unexplained rainstorm and snow squall. Chelsea Blundell, another of my Facebook friends, expresses it well:

"Heroes, I hear that word a lot lately. When I hear hero I think of; the fire fighters, the land owners, the ranchers, the volunteers, the dispatchers. Heroes, the folks making and/or delivering meals, the folks who have donated; food, drinks, eye drops, wet wipes, snacks, throat drops, phone chargers, to many other personal items. Heroes, the folks who have baby sat (so volunteers can help) or opened their homes and churches to people who need a place to rest. Heroes, all the mighty prayer warriors who pray consistently. I love this state I reside, this county I call home, this community I call mine and these folks who help with a true heart…. We come together in times of joy and sadness, and take care of each other ~ without asking for anything in return! Thank you to every HERO that has helped these past few days. God bless you all. I thank God for each of you."
Heroes: people who put aside their personal concerns and risk their lives and fortunes so others might be moved out of harm's way. That's what a lot of people did in Comanche County and Barber County. That sounds a lot like what Jesus did when He went to the cross.
What better way to celebrate Easter!