When people ask me what was the best part of ACFW, I suppose they anticipate I will  say, "I got a book contract," "I learned so much," or "I met this really famous author."
Well I did meet a famous author. At least she's going to be famous! She was my roommate and I teased her that I was going to introduce myself as the president of her fan club. You've met her before in this blog. It's Kate Breslin and her book, For Such A Time is totally awesome. And no, I don't get any kickbacks for saying that.
Actually my answer isn't too far afield from that. The best part of ACFW was the people I met. Not necessarily the well known people.The ordinary people, whether it was friends I had only met through Facebook, new critique partners I chatted with in long lines as we waited for editor appointments, talking to my roommate till I-don't-want-to-say-how late, or fellow historical fiction writers who get the same buzz I do over arcane facts of history. The very best moments were spent meeting total strangers and launching into talks about our faith in Jesus Christ with no thought or concern for what denomination we represent, what state (or country) we are from, or anything else about ourselves.
The joy started the first morning I was in St. Louis.The conference had not even commenced. As I and a new friend who I discovered was from New Brunswick,Canada walked toward the Gateway Arch in St. Louis, a young woman stopped us, asking for directions to the Arch. She explained she had come for the Joyce Meyers Convention. When we asked her where she lived, she told us she was from Nigeria, this was her first trip to the United States, and she had been here only two days.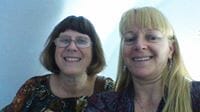 We spent the next hour taking pictures of the Arch, of each other, and of selfies, giggling and chatting like we had known each other forever. (Sorry, I didn't get a good picture of my third new friend, but you can meet Renee here.) At one point, we all sat on the grass, sharing our love for Jesus.
Three women – an American, a Nigerian and a French-Canadian – all citizens of God's Kingdom. I told them that the writer's conference would have to be pretty awesome to top this.
Imagine! That's what Heaven's going to be like! We'll meet folks from all sorts of places and time frames. All differences will just drop away because we love Jesus most of all. We'll sit together and bask in the presence of our Lord, sharing our stories that are actually His story. We'll sing praise hymns together, not concerned that the person next to us is from a different group or sings in a different language.  Jesus will understand and that's all that matters.
When you connect with a fellow believer, you really are friends forever.