Evil fills our world, from terrorist attacks on U.S. Consulates to a father and his son bullying a ten year old girl with cerebral palsy at a rural Ohio school bus stop.  Families are disintegrating.  Moral choices, unthinkable even a generation ago, are now commonplace in our society. Nearly 3 million children in the United States can be labeled as "children of trauma," children who are abused, neglected and trampled on first by their own family, then by society, and, finally, by their own poor choices made in a desperate effort to emotionally survive or escape.
Some would suggest we are in the twilight of civilization and the light is fading fast. Some wag their fingers at the darkness and at those who cause it.  Others wring their hands at the mess others, no, we have made of our culture.
Yet, I think God wants Christ-followers to approach the darkness in another way.
Reflect the Light
You see, the darkness has always been present. Even in the first century, Jesus observed that men loved carkness instead of light because their deeds were evil (John 3;19).
When terrorists rammed commercial airliners into the World Trade Center and hundreds fled the eminent collapse of the twin towers, a few ran against the crowd into the darkened buildings, knowing their efforts bordered on futility, knowing they might lose their lives.  Yet, EMT's and firefighters ran into the darkness with the flickering hope of saving a few.
When a lone gunman opened fire on the Virginia Tech campus in 2007, another lone man saved students' lives by barring a classroom doorway with his body so students could escape out the windows.  Dennis Miller, a conservative talk show host, described how Liviu Librescu, an elderly professor, was familiar with the face of evil, for he had seen it before as a twelve year old boy during the Holocaust.  Miller says Librescu, recognizing the same face of evil that day in 2007, walked toward that evil and tried to stop it, tried to buy time with his own body so that perhaps a few might live.
Jesus did that too.  He came to earth as a light shining in the darkness, knowing he wouldn't be able to save all of humanity.  But he shone in the darkness so that some would see the Light and follow Him. "The people walking in darkness have seen a great light; on those living in the land of the shadow of death, a light has dawned (Isaiah 9:2)."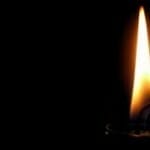 That should be my response to darkness.  As the song, "Go Light Your World" says, I need to "run to the darkness/Seek out the hopeless confused and torn/Hold out your candle for all to see it." I need to allow my life to reflect God's love to those looking for a light of hope so that perhaps, a few may follow me to the Light.
"Arise, shine, for your Light has come and the glory of the Lord rises upon you.  See, darkness covers the earth and thick darkness is over the peoples, but the Lord rises upon you and his glory appears over you (Isaiah 60:1-2)."
May God give me the courage to run to the darkness!