I'm so privileged this week to share this blog space with author, editor, and speaker, Kathy Ide. Kathy is a professional freelance editor who speaks at writers' conferences across the country. She is the author of Proofreading Secrets of Best-Selling Authors (Lighthouse Publishing of the Carolinas, January 2014). Kathy is also the founder and director of two organizations for editorial freelancers—The Christian PEN: Proofreaders and Editors Network  and the Christian Editor Connection. You can find out more about Kathy on her website (www.KathyIde.com).
Dreams Interrupted
By Kathy Ide
We all have cherished dreams and goals. We make detailed plans and then put in the time, effort, and sometimes money to make them happen, with the expectation that our plans will enable us to achieve our goals and realize our dreams.
And then life happens.
Twenty years ago, I got the idea of becoming a novelist. So I started to pursue that dream. I am now a successful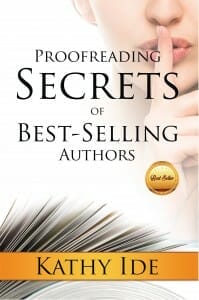 freelance editor, and I have a couple of commercially published books, and I absolutely love what I do for a living. I still don't have a published novel. But I wouldn't be able to edit fiction as well if I hadn't spent years trying to be a good novelist.
What are your dreams and goals? What plans have you made to achieve them? How has "life" interfered with those plans and altered your expectations?
The Bible says we are to rejoice always and give thanks in everything (1 Thessalonians 5:16–18).
Everything? Rejections? Infertility? Cancer? Losing a loved one? Surely not those things.
Yep. Even those things.
Of course, we don't have to be happy with everything that's going on in our lives. But as Christians, we can focus on our loving heavenly Father more than our present circumstances. And put our ultimate trust in Him. Not in doctors or medical breakthroughs. Not in query letters or proposals or agents or editors. And certainly not in our elaborately orchestrated
When we focus on God, we can recognize His blessings in the midst of our circumstances. And when we see those blessings, it's easier to let go of our disappointments.
When we choose to thank God in everything, a spirit of rejoicing will reign deep in our hearts, regardless of our circumstances. And that inner spirit of rejoicing will reveal itself in the way we act, think, and speak.
If there's nothing you can do to change your circumstances, then make the choice to rejoice. You don't have to thank God for the difficult situation, but you can thank Him in it. Your words of gratitude will be a sweet aroma to your loving heavenly Father, who promises to work out everything in our lives (Romans 8:28) for His honor and glory, for our ultimately greater joy, and for the benefit of those who don't yet know Him.
It's great to have dreams and goals. And to prayerfully and intelligently make plans to achieve them. But when life interrupts those plans … and it will, far too often … choosing to trust the true Orchestrator of our lives makes those detours easier to handle.
Kathy is also compiling a series of fiction-lover's devotionals. The books are a collection of short fictional stories followed by brief Life Applications. The first book, 21 Days of Grace: Stories that Celebrate God's Unconditional Love, will be released in June and is available for preorder at Christianbook.com. Grace On Parade hopes to have Kathy return at a later date, closer to the time of the release of 21 Days of Grace so she can share more about her glimpses of God's unconditional love.