The average American can't relate to the pomp and grandeur given to a head of state.
Sure, we have limited access to our President. Our head of state is surrounded by the Secret Service, akin to King David or Caesar Augustus' palace guard. The White House is shut up tighter than a medieval fortress. Friends of mine, signing up for a Washington D.C. bus tour which includes a tour of the White House, were told they needed to have background checks six months before stepping foot on the property. As difficult as it is in our own country, imagine the visual barrier of a throne room, guards barring the entryway with drawn swords, the gold, purple and blue opulance surrounding a far away figure on a high and lifted up throne.  You look down at your own clothing and suddenly feel dirty, unkempt and unworthy. Dare you even lift a foot to stain the plush carpet leading to the eminent figure on the throne?
Who does get easy access to a king or president?
Queen Esther risked her life to see her own husband, King Xerxes.
When Joseph's brothers were face down getting a mouthful of mosaic, Joseph, ready to reveal his identity, told them to come close to him (Genesis 45:4). I can imagine the brothers looking at each other. What kind of joke is this? Are you kidding? Only closest friends and family can get within arm's distance of a king. This is the lord of Egypt, second only to Pharaoh himself.
Oh wait a minute. He said he was our brother.
Only the invited, only family, close friends and honored advisers get access to a king. That's why Hebrews 4:16 fills me with wonder:

Approach God's throne? Are you kidding? The Israelites at Mt Sanai shook in their sandals at the mere mention of God's presence (Exodus 20:18,19). The scene in Revelation 4 sounds so magnificent and overwhelming, I'm not sure I would want to move in too close. Besides, there was this sea of glass before the throne (Rev 4:6). That sounds pretty inaccessible to me. If I did move closer, my heart would be pounding louder than a jackhammer. Who possibly would be allowed to move in to close to the King of Glory, the King over all Kings?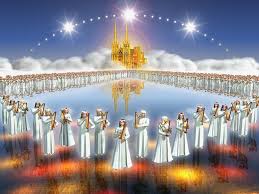 Who gets access to a king, a president, God Almighty?
Family. It's not what I've done that deserves a trip to the throne room. It's because of who I belong to.
I used to have this idea that Jesus, out of obligation, would grudgingly allow me into heaven because that was the deal and the Divine keeps His promises. "But go sit in that corner while the rest of us celebrate eternity forever," I would be told. I was inferior, not good enough, to join the multitudes of the pure ones.
What a liberating day it was when I realized I belonged in the front row with everyone else. Not because I deserved it. No one else deserved it either. I would be there because Jesus was my brother.
If that is true on the other side of the grave, it's true now. I can have confidence to approach God's throne of grace because Jesus is my righteousness. I don't have to be afraid of God, afraid of His wrath, afraid that He'll tell me "no" in that menacing voice that says, "I can't believe you asked for such a silly thing." He is full of compassion, love, and grace. He wants to meet my needs in His best way.
Because He loves me. Because Jesus is my brother. Because I belong to Him.
Through my faith in Christ, I'm part of the family.
What about you? How close are you willing to get to the throne of God?