Everything we own can become a tool to bless others in the name of Jesus. Even an Instant Pot.
I loved my Instant Pot the first time I used it. I've been a fan of pressure cookers for years. There's no better way to cook dried beans, potatoes for potato salad, or corn on the cob.
Because food takes longer to cook in high altitudes, my pressure cooker and crock pot were life savers when we lived in the high alpine San Luis Valley in Colorado at 7500 feet elevation.
But a traditional pressure cooker needs watching and my grip isn't as strong as it used to be. Lifting the cooker to carry it to the sink to depressurize it was getting to be painful. I was ready to move on to the simplicity of the Instant Pot. So I persuaded my husband to buy me one last year as an early Christmas present.
Okay, my new electric pressure cooker isn't an Instant Pot. It's a Power Quick Pot. This brand is more limited than the Instant Pot, but there are some things it does better. But this blog article is not a fine-toothed comparison of Pressure Cooker brands. Nor am I trying to convince you to purchase one.
Look around your home space to see what you do have that you can use to honor God and bless others.
I've learned to cook all kinds of new things in my Instant Pot.
Hard Boiled eggs: How simple! You don't have to monitor them on the stove.
Cooked Chicken Meat: I used to cook 5 pounds of chicken leg quarters in the Crock Pot for 3 hours. No more! 23 minutes in the Instant Pot!
Dried Beans. So much quicker than cooking on the stove or in your Crock Pot. And a lot less smelly too.
Steel Cut Oats. No more standing over the stove for 20 minutes first thing in the morning!
Beef Stew, Pot Roast, potatoes, corn on the cob, green beans. And rice! Oh my! Rice doesn't stick to the bottom of the pan anymore. Brown rice doesn't take forever and a day.
One Friend's Story
Food prep has become easier, allowing me to have more time with less stress to do the things that matter most to me. I was already convinced this was a good gift in my life. Then the day came when my Instant Pot became an investment in the Kingdom of God. A dear friend, who was wheelchair bound after recovery from surgery for a ruptured Achilles tendon, discussed her food needs with me. She wanted to cook healthy for her husband so didn't want a lot prepared processed food. Nor was she interested in a round of church lady casseroles."I have a new Instant Pot," I told her. Cooking basic foods like cooked chicken and no salt added dried beans would be a cinch.
We agreed I would bring her some prepared basic ingredients that she could easily freeze and use later to combine into easy to prepare dishes. In less than four hours, I was able to cook and debone 5 pounds of chicken, cook up two separate batches of dried beans, make refried beans with part of the pinto beans I'd cooked, and make homemade whole wheat bread.
Okay, I did not use the Instant Pot to make the bread. It, like anything else, has its limits. But, not having to stand over the stove monitoring a stew pot or traditional pressure cooker gave me the time and energy to make the bread.
I could not have done all of that in such a short time without my Instant Pot.
What can you do with an Instant Pot?
Here are some ways you can use an Instant Pot to bless others.
Hard boil eggs for deviled eggs. Take to the next church potluck.
Cook a whole chicken or five pounds of chicken leg quarters. Debone the meat to use in various recipes. Bag the cooked chicken meat in 2-cup measures and give to an elderly friend recovering from surgery or illness, or who might be going through chemotherapy. It's hard to get good protein when you don't feel well. Chicken is easy to digest. Your recovering friend can easily nibble at some cold chicken if their appetite or energy level is puny.
Make custard. It's another nutritious, easy to digest but rich in protein food. Know someone who is diabetic? Use Splenda instead of the sugar, cup for cup. Here's a recipe I found online.
Beans, beans, beans. So many things you can do with beans. Pintos for refried beans, Black beans for black bean soup. White beans for ham and bean soup or White Chili. Stick in a ham hock with some split peas to make Split Pea Soup. Yum. My mouth is watering.
You can either give the cooked beans to the person to make into their favorite dish or prepare the dish for them. Advantage? You control the amount of salt. Like my friend, who was watching her husband's salt intake, I didn't cook the beans with any salt, letting her add the amount she preferred.
Cook a pound of beans at a time in the Instant Pot and then make your favorite dish from what you've cooked, sharing half with a family who needs some comfort food. Or, make enough chili or soup just for them and use the rest to make something else for yourself. Make your dish on a Saturday and invite a family from church home for Sunday lunch. You can make a Jello Salad or a 7 layer salad ahead too. Easy meal!
Beans freeze well. I made White Chili for lunch and then froze the leftovers. We'll have it for a quick meal before a ministry meeting or I can take my disposable container to a friend in need.
Do you have an Instant Pot? Do you have trouble keeping track of times and amounts like I do? I found this great chart.
Is your mouth watering? At the end of this blog post, I'll give you my recipe for White Chili.
Now it's your turn.
Don't have an Instant Pot? No problem. As I said, this blog is not meant to convince you to go buy one. I think you would love it if you did, but that is not my purpose.
Look around your kitchen and the rest of your home. What appliances and devices do you own? What are your four favorite? Grab a piece of paper and a pen and write them down.
I've shared with you four foods I make in my Instant Pot for God's Kingdom work
Hard boiled eggs
Dried beans
Chicken meat
Custard.
I can:
Give food to an elderly shut in
Share a meal with a recuperating couple who can make easy meals but need help with basic preparations
Invite a family to your home to share a meal
Take a dish from your Instant Pot to a church Pot-luck.
What home appliance or possession did you choose?
Crock Pot
Waffle Iron
Computer
DVD player
Car
Lawn mower
Now. brainstorm four ways to use that item to bless and connect with others for the sake of the Kingdom. Be creative! Pray to God, the ultimate Creator, for out of the box ideas. And let me know in the comments section what you decided to do with what you have.
Here's my recipe for White Chili, Instant Pot Style.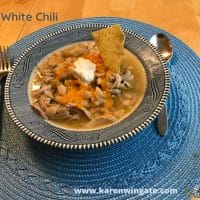 White Chili
White Chili with dried white beans is quick and easy when you use an Instant Pot.
Print Recipe
Ingredients
1

lb

dried Great Northern beans

5

cups

water

1/2

cup

chopped onion

1/4

tsp

ginger

2

cups

cooked chicken, chopped

1

7 oz can

diced green chiles

1/2

cup

chopped green pepper

1/2

tsp

garlic powder

1

tsp

salt

1

tsp

red chile powder

1

tsp

cumin

1

tsp

oregano
Instructions
Rinseand sort beans, removing any broken beans. Soak beans in enough water to coverthem for 1-2 hours. Drain.

Place beans in inner lining of Instant Pot. Cover with 5 cups of water.Add chopped onion and ginger. Cook on high pressure for 20 minutes, doing a natural release of 12 minutes. Vent and remove lid.

Add chicken, green chilis, chopped bell pepper, salt, chili powder, cumin and oregano. Stir. Set on Slow Cooker setting, cooking for 1 hour.

 

Serve in soup bowls, garnishing with shredded Cheddar Cheese, sour cream, and tortilla chips