In July, 2010, Heaven acquired another one of the faithful.  Ivan Martin, a long time missionary to Zimbabwe and a personal family friend, was taken to Glory after a long bout with cancer.  The world's loss was Heaven's gain.
Jack and I  first met Ivan and his wife JoAnn over twenty years ago when we ministered to a small church in Colorado.  JoAnn's mother was a member of our church and one of the most hospitable women I have ever met. At 80 years old, it was Evelyn's goal to have every church family to her home for Sunday dinner at least once during the year.  She missed her goal by two families! But oh, what wonderful meals!  I can still taste her homemade dinner rolls.
We had the privilege of passing forward the blessing to JoAnn and Ivan.  I still remember sitting around our dining table in our crowded living room, hearing Ivan give quite a different perspective on the problem and causes of AIDS in Africa.  Just a few years later, they sat again at our table, this time in the parsonage of our ministry in rural Kansas.  I doubt my girls remember much of the visit but they were enthralled with the Martins.  The older girl signed up for Ivan's missionary letter and for years afterwards, both girls regularly asked, "What do you hear from Ivan and JoAnn?"
If Heaven had an award for outstanding faithfulness, Ivan would be in the running.Tweet this.  In spite of the mega-epidemic of AIDS sweeping across Africa, the Martins stayed on.  In spite of out-of-control inflation and political corruption in Zimbabwe, placing conditions on the country few of us would put up with for more than two seconds, the Martins stayed on.  Because of the economic conditions, the Martins lived simply, doing without necessities many of us take for granted; yet to their neighbors they still lived like royalty so theft was a constant concern.  Still they stayed on – at a great price, for one of their daughters was murdered and another fought severe health issues.  When Ivan was diagnosed with cancer, he had to seek treatment in South Africa.  Each journey was long and arduous; although not that many miles, it took hours on the African roads.  They could have so easily come home to the States, citing any of the above as legitimate reasons, and not one of us would have blamed them.  Instead, they saw those problems as opportunities to display the love of Jesus to those around them.
Ivan reminds me of that long chapter in Hebrews that gives example after example of faithful men and women who "stayed on," who didn't give up on God.  How appropriate that the writer of Hebrews concludes his walk down memory lane with these words:
"Since we have such a huge crowd of men of faith watching us from the grandstands, let us drop off anything that slows us down or hold us back, and especially those sins that wrap themselves so tightly around our feet and trip us up, and let us run with patience the particular race that God has set before us." – Hebrews 12:1, Living Bible
Noah, Abraham, Isaac, Moses, Rahab, Ivan, JoAnn – they all have left behind a legacy of faith that demonstrates to the rest of us that we can stay on in spite of whatever faces us and challenges us.  They held their heads high and stood firm for their God, believing in what they or the rest of the world could not physically see – a land beyond our world where God is on the throne.
If they could stay on, so can I.  So can you.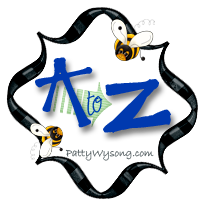 This Friday edition is the final blog the A to Z blog hop. Thanks for staying with us and be sure to check out what other writers are saying about the letter Z.