The ministry team at Java Journey in Hickory, North Carolina has discovered that a cup of coffee won't precipitate a "Road to Damascus" kind of conversion experience, but it sure can be part of the process.  Or, as Teena Stewart, one of the founders of Java Journey calls it, "transformation in the works."
In 2005, Teena and her husband Jeff started to dream of moving to North Carolina and opening a coffee shop ministry.  Today, Java Journey is the site for three small non-traditional church fellowships, a meeting place for many secular and Christian groups, a backdrop for benevolence work, and a place of fellowship and a safe haven for those who enter each day. "People from a variety of cultures and age groups love to make a coffee shop a part of their day," says their website,  "whether hanging out with friends, or just passing through to grab a savory hot beverage."
The coffee shop ministry seeks to create a warm and inviting place of belonging that puts people at ease.  And it's working.  "We have had people walk in right off the street and want to talk about spiritual matters," says Teena.
Sometimes they just want to talk about their personal lives. One day, a woman walked in, ordered coffee and confided in Teena that she was about to meet her estranged husband to talk about reconciliation of their marriage.  Teena grabbed the moment and asked if she could pray with the woman who said yes.
The coffee shop is completely run by volunteers – people who are also at different points in their commitment to Christ.  Teena and Jeff have seen growth and transformation happen in the lives of their volunteers as well as in their customers. One day, an agency called Java Journey.  This agency pays people to work for non-profit organizations so the individuals can get back on their feet; would Java Journey be willing to accept some workers?  It was a provision from God, for at that point, the coffee shop needed someone to work the early morning hours.  A man who spoke very little English came with his wife who served as his translator.  As time went by, he's been impacted by the early morning men's bible study who have befriended him and shown him kindness.
No one gets a wage at Java Journey.  All coffee profits and donations go into equipment and supplies.  Right now, Teena says, their dream is to raise funds for a coffee roaster so they can be self sustaining.
Java Journey is an organized effort that uses coffee as a bridge to touch lives for Jesus.  This wonderful, non-traditional approach to ministry reminds me that God can use anything, even a cup of coffee as a key to entering the life  and showing kindness to someone who is hurting or alienated from God.  When my daughter worked overseas, the culture she was in had an expression called "polako," which literally means slow but the deeper idiomatic meaning is wonderful: "Slow down and have a cup of coffee with a friend."  My daughter organized her work around coffee moments and over a cup of "kafa," gave her Bible to a seeker of the Truth.
It doesn't have to be coffee either.  Over hot tea and muffins one morning, the Lord led me to give a distressed mother resource material to help her ADHD daughter and bonded our friendship for future moments of discipleship.
That's what Java Journey is trying to do.  As the tagline on their website says, Java Journey is a place where coffee, caring and community connect.
If you would like to make a donation toward Java Journey's coffee roaster, check out their webpage here.
 Who can you share a cup of Java with this week?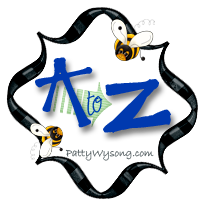 It's another blog hop.  Can you guess what letter we're featuring this week?  If you guessed "J", why, you're right!