Mother's Day is just a few days away. Do the sappy Mother's Day cards and glowing sermons ever make you squirm? The truth behind the envelope or bulletin folder is that the vast majority of moms believe they really aren't that wonderful. We know our weaknesses. We know—shh—we can't fix everything. We wish we could. We love our children so much we would do anything to fix the brokenness and provide what our children want. But sometimes we just can't.
It was a double-shot of sadness kind of day. The woman of Nain trailed beyond the funeral bier of her son, her only son. It was the death that should not have happened. A mother's worst nightmare. We expect to bury our parents. As women, we are resigned that we might bury our husbands. No woman should ever have to bury a child.
A stranger came up to her. "Don't cry," he said. Then He gave her son back to her, alive. The double shot of sadness turned into a double shot of grace, for in Jesus' day, there was no Social Security or welfare. If a woman lost her husband, she was dependent on the male members of her family. When this lady lost her son, she lost her livelihood. She stared into her own open grave.
This Bible story, found in Luke 7:11-17, contains precious words. Jesus often did miracles to prove that He was the divine Son of God. This one stands apart, for it says that Jesus was moved with compassion. As a mom, that brings me great comfort. Jesus cares about moms.
My husband and I thought long and hard about bringing children into the world. My eye defect is genetic and according to our ophthalmologist, our offspring had a 50/50 chance of having the same eye disease. That didn't bother me. I knew that life is more than a pair of eyeballs and that as I had overcome, so could my child. Besides, medical technology had advanced tremendously in thirty years. The eight surgeries of my childhood had been reduced down to two simple surgeries for my three-week old daughter.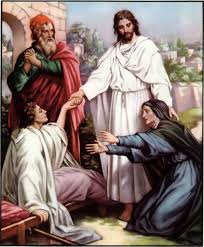 I was more concerned about my ability as a visually impaired mom to care for my children. Before they were born, I was the typical 20-something—I could conquer anything. After they were born, well, my tune quickly changed.
Moms are supposed to be Super-Moms, right? We're supposed to fix anything and everything. We're supposed to know all the answers. Yet it doesn't take too many colicky nights, strange looking diapers, and one goose-egg on the forehead to convince us otherwise. We aren't invincible or omniscient. Often I found myself leaning over the edge of my daughter's crib, praying, "Oh God, protect her in ways I cannot."
It took a very scary accident for God to prove to me that He was doing just that. In spite of her visual limitation, my second daughter was a bolt of lightning. She waited till seventeen months to walk, then she made up for lost time. As I sorted dirty clothes on the kitchen floor one morning, I turned just in time to see her reach her little hand to the top of the counter, grasp the handle of the coffee carafe, and fling it over her shoulder. It shattered into a thousand smithereens over the piles of clothes.
I froze. Both children and I were barefoot. Any step could have crunched a sea of glass. I swooped one child into my arms and ordered the other one to stay away. I locked both girls in their bedroom, then called a neighbor, lowering my pride to admit I couldn't see the broken glass and yes, I hadn't been watching my child carefully enough.
In two minutes she was there, taking the broom I offered her. She swept up the glass she saw then shook out the clothes. "I don't understand," she said. "All the glass landed in one little pile. None of it landed in your clothes."
I understood immediately. God had answered my prayer. He had protected my children in a way that I could not. As I grew older and a wee tad wiser, I learned my prayer was one any mom needs to pray, even normally sighted moms. Even the widow of Nain couldn't keep her son from dying. But Jesus could. Because Jesus cares about moms.
Jesus has compassion about broken bodies and broken glass. He expresses his care by giving us what our children need, by protecting our children, reassuring us in the darker moments, and holding us tight when it hurts to watch our hurting or wayward child. We can cry out to him no matter what the crisis—school issues, accidents, illnesses, or the hurts over lost puppies and lost friendships. When the responsibilities become too great or the hurt too deep, He is there, and He does care.
As moms, we can't fix everything, but we know the One who can. He cares about us so we can care for our children.