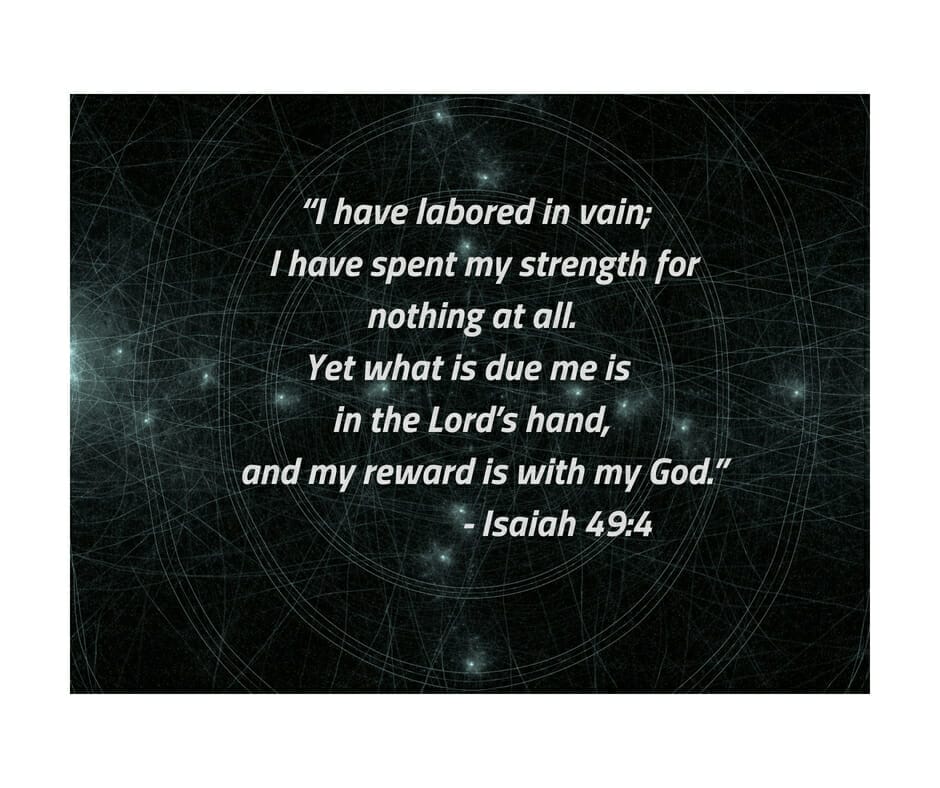 Faith is trusting God even when we don't get to witness the results of what we do for Him.
It's been a wonderful week. I've got blessings spilling out all over the place. Last week, my husband and I paid off the last of our medical bills from my chipped ankle and his two surgeries last year. It's been six months of trusting God that He will provide. Hooray! Debt free is such a good feeling.
I rode with a girlfriend to the big city one day because she needed to take her two boys to a dentist who specializes in children with special needs. Her youngest son is autistic. I served as a grandma-friend to the older boy who had never had his teeth cleaned and who nervously looked sideways at the closed door where his brother screamed during the entire exam. I felt like I didn't accomplish much, but my friend assured me otherwise. "You were there. You were moral support," she told me. I was blessed because I was able to bless others, even in such a simple way. Another chance of trusting God to work through my service to Him.
My biggest blessing came Sunday when my husband Jack preached an awesome sermon of faith from Hebrews 11. Let me share his outline with you.
Faith is:
 Believing when I don't see it.
Obeying when I don't understand it.
Giving when I don't have it.
Persisting when I don't feel like it.
Thanking God before I receive it.
Trusting  God if I don't get it.
Jack's last point grabbed my attention. He referred to Hebrews 11:29 which says,
"And all these, though commended through their faith, did not receive what was promised."
The entire line-up of men and women in Hebrews 11 obeyed and trusted God because they were looking forward to the promise of the Messiah. Yet they never received that promise within their lifetime. They had to trust God's faithfulness even though they didn't experience the results or see the day they longed for.
God's Holy Spirit must have been working because the next day, I found this verse in Isaiah 49:
"I have labored in vain. I have spent my strength for nothing at all."
Stop.
Isaiah was a prophet of God. His message went out to the children of Israel who refused to turn from their wickedness. God even predicted that Isaiah's message would fall on deaf ears.
Isaiah felt like a failure. He felt like I do so many times, that his words might as well be spoken into an empty cistern for the good they were doing.
Do you ever feel that way?
I guess I have an innate need to give, to make an impact. I want to see results. So often, I feel I am accomplishing so little. God has promised us that He will answer our prayers in behalf of His Kingdom and that He will use us to accomplish His purposes, so why am I not seeing results?
Isaiah's conclusion holds the answer:
"Yet what is due me is in the Lord's hands, and my reward is with God."
That makes me think of Paul's words in Philippians 1:6
". . . he who began a good work in you will carry it on to completion until the day of Christ Jesus."
The day of Christ Jesus refers to the time when Christ returns. Our work will continue to have a ripple effect in the lives of our recipients even though we may not see it.
The writing I do, the articles I post, and the contacts I make are each a deposit of faith. My actions show that I am trusting God to take the work of my hands and use it to His glory, even if I don't personally receive the promise.
What about you?
How are you trusting God to work through your work?
Teachers, hang in there. Your teaching is an investment that may not bring a return until much later in your students' lives. You may never see the results. But it will happen.
Writers, hang in there. You have no clue where your words will land, how your readers may pass them on, or how other writers may build upon your foundation. But it will happen.
Ministry workers, hang in there. As you speak to large groups, teach small groups, counsel one-to-one, and love on everyone, you may never know how the Holy Spirit is connecting your words and actions to their needs. But it will happen.
Isaiah 55:10,11 says,
As the rain and the snow
    come down from heaven,
and do not return to it
    without watering the earth
and making it bud and flourish,
    so that it yields seed for the sower and bread for the eater,
so is my word that goes out from my mouth:
    It will not return to me empty,
but will accomplish what I desire
    and achieve the purpose for which I sent it.
I am blessed because I am serving a great God who cares about His work and His Kingdom even more than I do. So are you. The words and deeds He gives you to do are not wasted. God will use them to His purpose. We are keepers of God's promise and He will not fail us.
How has God blessed your week?