No fear! God has you covered.
Have you been following the news lately? ISIS killings. Tornados. Economic instability in the country of Greece. The shooting of four Marines in Chattanooga. A couple sued $135,000 for refusing to bake a wedding cake for a homosexual couple then put under a gag order, prohibited from talking about their position. Somehow, the world doesn't feel as safe and secure as it once was. How close will it come before it touches any of us personally?
I could get an anxiety knot in my stomach real fast if I allowed myself to think too much.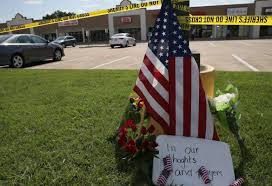 My oldest daughter serves at a domestic military base. When I told friends several years ago she was joining the Army as an optometrist, so many of them immediately responded, "She won't be deployed, will she?" Last week's shooting of four Marines at a recruitment center showed us warfare can be both domestic and unpredictable. Ironically, my friends' comments came not too long after the Ft Hood shooting where thirteen servicemen died. Major Nidal Hasan, a stationed psychiatrist, opened fire in a soldier readiness processing center. My daughter now works two days a week in such a center. People were concerned about her going to Afghanistan?
My youngest daughter currently works in another country. I've decided it's best for mothers not to know some things. She told us they were warned not to purchase food from street vendors. "You never know what you might be eating. Some dishes have been known to contain fried scorpion and other delicacies," she told us one evening on Skype. She then told us two male colleagues were battling stomach bugs and that she wonders at times when she eats fruit how safe it is to eat raw fruit or whether it has been washed.
"I admit, I've wondered about the food safety of the cucumbers and salads you just told us about," I said.
She shrugged. "You weigh the risks."
Easy for her to say!
The point is, danger is all around us. We cannot control what might happen to us or to our children. As I'm tempted to allow my concern to morph into full blown anxiety, I have to stop myself and ask the six million dollar question.
"If I say I have faith in God, won't I trust Him to take care of my children?"
What do I believe about God? What do you believe about God? If we believe He is all-powerful and all-loving, won't we also believe He can and will protect our loved ones from harm? Do we believe what He promises or not?
Years ago, when my babies were babies, I keenly felt the limits of my vision loss. If my children moved outside my six foot bubble of sight, I couldn't tell if they were in danger. I couldn't see the things that would trip them and make them go boom. I couldn't discern the direction of the bumps in the night. So each night, as I lay my children in bed, I prayed, "God protect them in ways I cannot." I prayed that prayer because the one thing I could see was my inadequacy. It was a prayer I soon learned any parent needs to pray.
God was faithful. When Christine was two, she flung a coffee carafe from the counter, shattering it across my sorted laundry on the kitchen floor. I froze, not seeing where the glass landed. The children and I were all barefoot. I scooped them up, barred them in a bedroom, then called a neighbor to find and remove the glass.
"I don't understand," she said after shaking out the clothes. "The glass landed in one pile on the bare floor away from the clothes."
I understood. God was protecting us in ways I could not.
Psalm 91:3-7 is a constant reminder to me of God's protective care.
Surely he will save you
from the fowler's snare
and from the deadly pestilence.
He will cover you with his feathers,
and under his wings you will find refuge;
his faithfulness will be your shield and rampart.
You will not fear the terror of night,
nor the arrow that flies by day
nor the pestilence that stalks in the darkness,
nor the plague that destroys at midday.
A thousand may fall at your side,
ten thousand at your right hand,
but it will not come near you.
God said it. Do we believe it?
What about the times when bad things do happen? When harm and Christ followers collide? Nothing will happen without God's knowledge or permission. When He allows it, He will always work through the bad to bring about His glory and our good. While our bodies may be damaged or destroyed, nothing can sabotage our souls or our chance at eternal life as long as we remain in Him.
Jesus was in danger several times. His hometown buddies wanted to stone him to death. The Pharisees were always looking for ways to kill him. Unconcerned, Jesus kept on preaching, even baiting His enemies by teaching right under their noses in the Temple Courts. Even though he knew their hearts and thoughts, he kept doing what God sent Him to do because, as John 7:30 says, "His time had not yet come." When the moment was right, God allowed Jesus to suffer horribly, even to die—but He chose the time, and great and wonderful things happened because He allowed His Son to die.
My children may suffer harm in the line of duty or dedication. Until then, I can rest assured that nothing will happen to them unless God allows it. If and when that time comes, it's part of the plan. God will carry them through and will even use that difficult time to bring about some awesome things.
In the meantime, He's got them covered.
How have you experienced God's protection?