What makes you mad enough to fight?
Mariya Vasilyevna Oktyabrskaya was angry. Angry enough to give up her lifestyle and livelihood to fight her hated enemy, the Nazis of World War II. Angry enough to forget that Russian women didn't go to war or drive tanks, and did it anyway.
The cyclonic forces of war hurled Mariya east to Siberia in an evacuation convoy and her husband in the opposite direction to the frontlines. Mariya's husband died in battle in 1941 but it took two years for the news of his death to reach Mariya. Anger at his death turned to vengeance and hate toward the Germans. Mariya sold all her possessions so she could buy a tank for the Russian Army. Then she enrolled in training so she could learn to drive that tank, naming it the Fighting Girlfriend. Over and over, Mariya took her tank and her crew into bitter fighting. Several times, when the tank was hit by artillery fire, Mariya, disregarding orders to the contrary, would jump out of her tank to make repairs amidst heavy fire. Her vengeance defied fate one too many times and after being hit with shrapnel, she lay in a coma for two months before she died. The Russian government awarded her Hero of the Soviet Union award for her bravery – bravery based on hate and white-hot anger.
Mariya's story makes me think of two other people who were equally determined to fight. Equally determined to go against the odds. Equally willing to give up everything and risk even more to bring down an enemy. Anger may have been part of the equation. Lock jawed determination, an all-out, "You are not going to succeed if I can help it" attitude was definitely part of it. Hate was not. Vengeance, no. Just the courage to do whatever it took to stand up for God and His ways and bring down evil.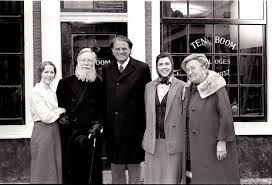 Corrie ten Boon lived a quiet life until she was 49. Then the Nazis came to town. They came with the intention of eradicating Jews. Not on our doorstep, the ten Boons determined. No, Nazis, you are not going to force us to treat the Jews like inferior people. Your hate for these people will not win. So the ten Boon family defied the Gestapo and built a secret compartment in an attic closet to hide Jews. They ultimately paid for their actions with their freedom, health, and for two of the family members, with their lives.
Millennia before World War Two, an enemy taunted the ability of God to protect another group of Jews. A giant of a man, Goliath had nothing good to say about the motley, tattered army of Israel. This made one young man indignant. Annoyed. Yeah, angry. How dare this ignorant, uneducated giant of a man spit in the face of the Almighty? David the shepherd boy was so determ
ined to not let Goliath defeat the Israelites or defy the one and only God, he set reason, logic and sensibility aside. He forgot he was only a young man and that normal battle strategies smirked at the use of stick and stones in battles against giants. David was determined to champion the reputation of God Almighty, no matter what.
Mariya, Corrie, and David make me think. Can I find a middle ground between white-hot anger and passive silence? The problem with passivity is that a person can end up like Mariya—taking it and taking it until the pot boils over? All that brings is a flush of shame as the world laughs at those hypocritical Christians who seek vengeance just like the rest of the world. Can I stand against evil without losing my cool? What will make us distinct from the rest of the world when we fight evil?
I have news for you. Christians can be courageous and loving at the same time. The world mistakenly believes that only people filled with anger and hate fight back. When Christians do courageous things like refuse a same-sex couple a wedding cake, rescue fourteen-year-old prostitutes from a truck stop, or build a pregnancy care center in defiance of abortion, the world thinks we are acting out of hate and vengeance like Mariya Oktyabrskaya. The world laughs at our seeming weakness like Goliath laughed at David. The world fights back like the Nazis did when they dumped Corrie and her sister in a concentration camp, then sat back with a smug smile, thinking they've won because they exterminated six million Jews along with their friends.
It's never a loss when we fight against evil. It's only futile if we allow ourselves to be pulled under by personal hate. We speak the truth in love. We stand in courage. We risk all in order to rescue a few from the evil clutches of a world gone mad. We do it even when the world misinterprets our efforts and taunts us with accusations of hypocrisy.
You don't have to be passive about evil. You can stand against it in love and with reverence for God. Don't let evil rule the day.
How will you stand against evil?