My good friend, Kathleen Rouser to the Grace on Parade stage to share with it's like to be a mother in the wilderness.
Mother's Day is in a few weeks and for some, this day holds more heartache than happiness. Kathleen knows the heartache a mother can feel. She lives with it everyday. Her story is longer than most Grace on Parade posts but it's worth every word, for she shares how she, through God's grace, came to an acceptance of the hole in her heart and found her strength and joy through identifying with the sufferings of Jesus. Here's her story.
Out of the Wilderness: A Mother's Quest for Grace
by Kathleen Rouser
I still love you, but I never want to see you or talk to you again… Was I reading my son's email correctly?
Let me back up. My husband, Jack, and I were loving, albeit imperfect parents, who wanted our children to know God and His word above all else. Our family went through many trials and losses. We pulled together and trusted God. We watched the Lord answer prayers in remarkable ways and grew close as a family who desired to serve the Lord.
And then, one by one, our children walked away from the Lord or as my husband says, "ran down to the camp of the Philistines." The youngest rebelled first. The oldest gradually drifted away after he left home. The middle one went away to school and before he graduated from college decided he was gay. A few years after that he revealed he wanted to be a transgender woman and even changed his name. We were heartbroken over our sons' choices and yet still loved them and tried to reach them right where they were.
The Breakdown
In June of 2016, our youngest son was visiting for the first time in quite a while. I was elated. My first novel had been published in April and I was thankful to have a contract for the second novel. I was getting ready to visit my niece in England and then go to the Paris Prayer Conference.
At that time I received an ugly, delusional email letter from our middle transgender child. This child decided to break communication with us. The things he accused us of hurt very deeply.
When I arrived home from Europe, I spoke with my oldest son and things seemed all right. But the rest of the summer when my husband or I tried to contact him by phone or text he wouldn't reply. Finally, in October when Jack and I were cleaning things out of the basement I sent him a text asking what to do with his stuff. He texted back a few days later, "Do what you need to." That was the last I heard from him.
A Time of Wilderness
Soon after this, I questioned why the Lord had allowed this breach in relationship with our two older sons. I'd been praying and trying my best to trust the Lord. Sadness, anger, and a sense of failure overwhelmed me.
The silence from my two older children sent me into a grief without closure as I was deeply wounded by them. It became like a living death, in a sense, knowing they were alive and yet not being able to talk to them. No answer came to repeated texts, phone messages, or emails, reassuring them that we loved them and missed them. Just silence.
I mourned, questioned, and sank into a deep depression. Worst of all, was the silence during my devotional time each morning. I usually read a Psalm, praying for the Lord to speak to me and give me a truth for that day. Instead, it seemed my prayers bounced off the ceiling. I'd lost the sense of His presence. Why was God punishing me this way?
Exhausted in body and spirit, I couldn't even face signing up for Bible study. I couldn't imagine anyone would understand what I was going through, feeling like a fake as I tenuously held onto to a sliver of faith.
How I needed to grasp hold of Jesus again! In my head, I knew He had hold of me, but in my heart, He felt so far away.
The Quest for God
I listened to different Bible teaching podcasts, trying to receive God's word into my hurting heart and read books about the faith of others through trials—anything to not lose my grasp on the truth. And I waited, through that winter, still feeling very alone. Nothing changed. The holidays were more painful than ever.
"God, where are you? Why aren't you answering me? Do you know how I feel? I'm so brokenhearted. I'm just broken. I've failed you," were all the cries of my heart. I was miserable.
Then, in early spring, before Easter, a friend recommended I read The Blessings of Brokenness. As I read this little book by Charles Stanley, I was confronted with the question of whether I ever thanked God for the trials I was experiencing. I certainly didn't feel like there was anything to be grateful for in it, but God had been preparing my heart through a study on gratitude. I humbled myself in bittersweet prayer and thanked God for all of the trials and rejection, asking Him to use it in my life. I began healing from my anger and bitterness toward God that day.
Jesus Knows and Understands
Soon after, I was reading a devotional book titled Encouragement in the Wilderness. One reading covered the passage of scripture where Jesus' family comes to bring Him home when He's teaching." When his family heard what was happening, they tried to take him away. "He's out of his mind," they said (Mark 3:21). Yes, Jesus' family thought He was crazy!
Whenever I've heard a teaching about God knowing how we feel, I would think how He can get through it because He's God, as though He has an unfair advantage. Then I pondered how Jesus had lived a perfect life, showing nothing but love and kindness to his brothers and sisters. How hurt the human side of Him must have felt! Hebrews 12:3 says: Consider Him who endured such hostility against himself from sinners, so that you may not grow weary or lose heart.
And here I am a sinner, who has failed so many times, unlike my Savior who never sinned. Suddenly, I grasped more fully that He knew indeed how I felt. Am I less deserving of such hurt inflicted by family members than my Savior? Yet He endured it in His human body. Yes, Jesus understands my heart.
After grasping these truths, I was able to praise Him again more fully, to know that despite the outcome, while I wait on Him, He is still a good God. Four years later our family is sadly still fractured. Only one of our three children speaks to us. This wasn't the desire for my empty nest years, but I can say that God's plan and purpose is better than mine.
My prayer is for the joy of the Lord to be my strength, (Nehemiah 8:10), that He would use me as He sees fit in the years to come. I don't want this time of my life to be a victory for the enemy as the Father refines me through the fire of affliction (Isaiah 48:10), that while I wait for triumph, I would remember that I am "more than a conqueror through Him who loves us (Romans 8:37).
In times of estrangement and depression, of pandemic, and the aloneness and death this recent disease has caused, we can remember that God is the same yesterday, today, and forever. He will never leave us or forsake us. We can always look to Jesus with hope, the Savior Who identifies with us in every way.
About The Author
Kathleen Rouser is an award-winning and multi-published author of historical Christian romance. She is a longtime member in good standing of American Christian Fiction Writers.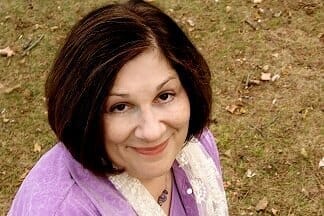 Kathleen has loved making up stories since she was a little girl and wanted to be a writer before she could even read. She's in the grip of God's grace and is a fan of the three Cs—cats, coffee, and chocolate. She lives in Michigan with her hero and husband of thirty-some years, and two sweet cats who found a home in their empty nest.
Sign up for Kathleen's email and receive a free story.
Follow Kathleen on Facebook.
Follow Kathleen on Twitter.
All you have to do is look up.
This collection of five brand new romances is sure to send your heart soaring. Journey from Canada to Georgia and Colorado to Paris by way of Michigan as these couples find love is in the air. All they had to do was look up.
Flying Into Love by Kathleen Rouser:
Unable to say no when others need her, Talia Sampson took on her deceased aunt's advice column and the care of her special needs niece. Then new veteran, Ben Tanner, shows up unexpected on her doorstep. Hurt many times, he wonders where home is. Talia isn't happy finding a hot-air balloon with him, but she treasures the old journal with it. Ben hopes restoring her family's antique will please her, until he discovers a secret that shatters his trust. And Talia hates flying. Will she trust God—and Ben—enough to go airborne?