"The quality of our relationships define the quality of our lives." – Barry Reed
I look forward to the Campus Students for Christ Harvest Banquet held at Western Illinois University every year.  This campus ministry is reaching over 100 students for Christ through small group bible studies, a campus house that provides alternative housing, leadership training courses, and weekly church services held in the University's Student Union.
The ministry is growing so much that last year at the banquet, the directors outlined a 3-5 year project for a building addition to provide large and small group meeting space, more bathrooms and more office space.  At this year's banquet, we were told that money for the building addition has come in so quickly, they will start the addition next May!
Barry Reed, one of the three campus ministry directors, has such a heart for outreach to international students.  He is one of the people God used to set my husband's and my hearts on fire for interaction with international students.  Through Barry we were able to invite two students home for Thanksgiving dinner, bring homemade cookies for the campus house during finals week, and arrange for our church ladies to give a baby shower to a Chinese student.
At each place setting at the banquet lay a brochure, giving a state of the ministry report for the last year.  But Barry said it so well when he stood to address the gathered crowd.  The report didn't begin to tell the story, for most of their work could be described in one word – RELATIONSHIPS!  "We are about building relationships  – especially with helping students build relationships with Jesus Christ."
After the banquet, I pulled on my husband's arm.  "I want to go talk to Rebecca.  And I need to find Barry.  Oh – " I paused and spoke to Amy, " – if you see, Susan, send her over." I didn't tell Jack that I hoped to catch our new little Chinese mama and her six month old baby girl.   I prayed with Rebecca, cooed over the cute baby, made arrangements with Barry about having more students in our home, connected with Susan who is part of my online bible study and left with Mike and Amy, members of our church.  My heart was full and singing. I am so rich. Life is good.  God is good.
Barry was so right.  It is all about relationships – interacting and getting involved in people's lives.  Meeting needs, broadening my perspective by seeing the world through their eyes, and finding camaraderie though our shared faith in Christ.
Quality of life doesn't come in the amount of possessions you have, the upscale home you own, or the excellence of your health.  It comes through other people.  So it only makes sense to invest myself in people rather than my professional career, my possessions or my personal passions.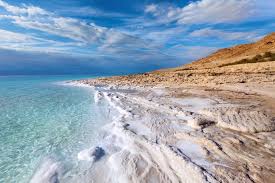 It's as simple a principle as the Dead Sea.  This body of water, known for having nine times more salt than any ocean, is located at the southern tip of the Jordon River, fed by fresh streaming water from the Sea of Galilee and the Jordon River.  There's one problem with the Dead Sea.  There is no outlet. It takes in but it never gives out.
 Water stays until it evaporates, leaving a heavy deposit of minerals. Nothing can survive in its waters. Yet only two miles to the west, the springs of the En-Gedi bubble from underground Artesian wells, giving forth fresh water for thousands of years and turning the desert into an oasis.
The principle is obvious:
Do you find yourself unsatisfied with your life, despairing at how your life is turning out? Try this.  Invest yourself in people.  Improve your friendships.  Go deeper with Jesus.  Reach out to people you normally wouldn't associate with and introduce them to your Best Friend, Jesus.  Then and only then will the quality of your life outrank a five-star restaurant!