Servant hearted leadership is a catch phrase that has been bandied about for the last couple of decades. While multitudes of books, articles. and seminars have attempted to teach the concept of leading by serving, a church leader from Assuit, Egypt is the one who personifies servant leadership for me.
Safaa and I attended Bible college together. I was preparing to spend the summer as a missions intern to a Fillipino church in Ottawa, Canada, but my missions support was only trickling in. Three weeks from my departure date, I had some money promised but no money in my hand even to buy a train ticket. Despondent, I walked home from the seminary to my apartment complex one dreary day in May. Safaa, going home as well, caught up with me and asked how my plans were progressing.
"I'm ready to give up," I said. "Maybe it is not God's will that I go. I have no money."
"You mustn't believe that," Safaa told me. "You must believe that it is God's will for you to go and have faith that He will provide for you."
The next morning, a slim envelope appeared in my campus mailbox with a five dollar bill and a note. It was from Safaa, encouraging me to have faith.
Later that day, I picked up a copy of the bi-weekly campus newsletter. Buried half way down the page was a prayer request for Safaa and his family. Unknown to me, they were intending to return to Egypt in a few weeks but had no money to buy their airline tickets. Would the student body pray for God's provision?
I was stunned and humbled. Safaa had his own needs. He had a family to care for! He didn't have five dollars to be giving away to discouraged interns! Yet he gave it to me, fully believing that God would meet his needs as well. That five dollar bill became a powerful reminder to me to keep believing that God would provide my needs if I followed Him in obedience.
This humble man, who thought of others above himself, is responsible for igniting a movement similar to the American Restoration Movement in Egypt where many Christians, churches, and even an entire denomination has sought to shake off the shackles of denominationalism and return to a pattern for the church as outlined in the New Testament. Over the last twenty years Safaa has taught over 2700 church leaders in New Testament principles and influenced 180 churches in Egypt to observe the Lord's Supper weekly as exemplified in the book of Acts. Yet, Safaa quickly dismisses any credit to himself for this turn-around.
Safaa's zeal for the Bible has come at a price. With the recent upheaval in Egypt, one would expect that any opposition would come from the Muslim sector of Egypt. Not so. Safaa's greatest persecution has come from within, from mainline and orthodox churches who have accused him of heresy and receiving money from Americans to preach what he preaches.
Even so, Safaa is reticent to talk about personal persecution. Several years ago, I asked him if outsiders oppressed him. He waved his hand dismissively, saying, "About once a month, I'm called to the police station. They ask me some questions, rough me up a bit, and let me go." No big deal. Yeah, right.
When I saw Safaa and his wife at the missionary convention I recently attended, I rushed over to them with tears in my eyes, expressing my concern and worry for them in light of the recent upheaval in Egypt. "Were you harmed?" I asked. True to his humble nature, Safaa said, "No, no. But eighty-four churches have been burned or destroyed."
His faith remains strong as well. When we asked about the current political situation in Egypt, Safaa's wife told me that the overthrow of the Muslim Brotherhood was "a miracle, a series of miracles."
Yes, obviously, Safaa made it back to Egypt. And I made it to Canada. After all, God had work for both of us to do. And I have never forgotten how a man gave five dollars he couldn't afford so a young woman would have the faith to keep serving.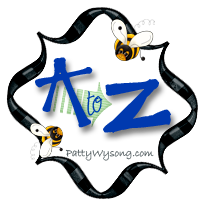 What comes to the mind of other writers when they hear the letter "S?" Check out these blogs below in the continuation of our "A to Z meme."