I-SEE. Joyous words. Hope-filled words. Words that Steve Saint's mission organization, ITEC, and other mission groups like Kim Jackson's Elder Orphan Care are making possible for people in third world countries.
I can tell you from first-hand experience that good vision is pretty important.  Born with a genetic defect that has evolved into about six different visual issues, I've struggled to see my entire life.  While even a pair of glasses or surgery won't bring my vision anywhere close to that illusive 20/20 acuity number, I've been blessed over the years to have the medical attention and expensive glasses I need to maintain the level of vision I do have.
That is not so true for those in third world countries.  Many have no access to the most rudimentary eye care nor can they afford glasses.  Take Irina, for example.  When my good friend, Kim Jackson from the mission group Elder Orphan Care, first walked into Irina's corner of the home for elderly homeless folk in Romania, she guessed by the book in Irina's hands that here was a lady who loved to read.  Only later did she find out that Irina merely held the book; she could not see to read it. The best she could do was make out a few photographs.
Irina did not have to keep struggling to see.  Through the program I-See sponsored by Steve Saint and the ITEC organization, Irina got a pair of glasses. ITEC specializes in reinventing medical supplies, equipment and care so that people "at the end of the road and beyond" can receive spiritual and physical comfort and so become more open to the Gospel message. (See Steve Saint's description of the program here.)
This is the coolest program!  Well, maybe I think it's so cool because I have a heart for people who can't see well. For $950, ITEC will provide a mission group with an I-See kit that contains two hundred pairs of glasses, eye charts, equipment needed to fit glasses to people's specific head sizes, repair kits, and a non verbal training video so anyone anywhere can learn how to do a basic visual assessment.
That's the other cool part of this program.  Many mission groups will bring in medical doctors and optometrists to do short-term mission stints.  I-See works to train a local "God follower" so that when the medical personnel leave, the work to provide sight to the sight handicapped can continue.
I don't need to tell any of you that sight is such a very precious gift.  I still remember the joy, delight and deep emotion I felt when I put on my new glasses after my last surgery.  While my vision still isn't anywhere near normal, it doubled my visual acuity.  The best way to describe the change is that I don't have to struggle as hard as I used to. I no longer have daily headaches. I've gained more confidence and independence in getting around and I don't have to use that nasty white cane anymore.
I can only step close to the edge of what people like Irina must have experienced when receiving a pair of glasses.  The hope. The delight.  The relief that life doesn't have to be so hard anymore. And an entire world can open up to you in even such a small thing as a book.
I can imagine the deep sense of satisfaction and worship that courses through the souls of people like Kim Jackson and Steve Saint, knowing that they have been used of God to become the hands and feet of Jesus in ministering to the least of these.  Worship, because they get front row seats to witness how God uses their gift of a pair of eyeglasses to do what only He can do.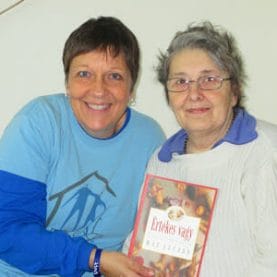 When Kim Jackson returned to Irina's corner on her next visit, Irina was wearing her new glasses and a smile that stretched from ear to ear.  But Irina had given her book away.  They searched around the home and found another book, but it was in Hungarian, not Romanian. Then Irina's translator spoke precious words.  "Irina is Hungarian."  God knew! And Kim and Irina's smiles grew sweeter. (Irina's story)
For further information on the I-See program, click here.
To learn more about Elder Orphan Care, click here.
It's Blog Hop Friday.  Today's blog is brought to you by the letter I.