For Jeremy Wise, October 12, 2015 was a very long day. For Whitney and Makayla, it was a day they will always remember.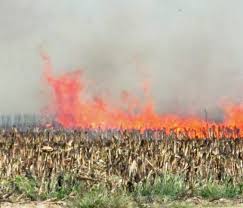 His workday as the chief of our little town's volunteer fire department began at 1 p.m. when the call came to fight a large crop fire whipped up by strong winds near Kirkwood, Illinois. As his team returned to Roseville, they received two simultaneous calls; one for a fire near Avon and another for a large crop fire near Berwick. Several more fires erupted including the need to evacuate the residents of one home. As the team worked to extinguish that fire, heat burned the hand of one fireman.
All in all, six fires broke out in our local fire district that day, two of them major. That's not counting fires in other districts around the entire county where the Roseville district assisted. Jeremy's team was getting pretty exhausted. Prairie fires from high winds can be some of the worst, he told me. "One shift of the wind and you can get caught."
Meanwhile, around 4 p.m., two young women were texting each other. Makayla sent Whitney a photo of a fire north of her home.
"Like dumb kids, we jumped in her car to go see what we could see," Whitney told me. After driving around awhile, Whitney and Makayla, along with Makayla's sister, Jessi, entered Roseville and saw all kinds of emergency vehicles taking on water at the fire station and water tower. They had already noticed emergency vehicles tapping into water spigots at nearby farms.
It was then they knew they wanted to help, realizing very quickly they were civilians and couldn't do much. A meal was out. Even snacks were a time waster for the frantic firefighters. Surely the men and women needed hydration themselves so they could keep working.
The young women pooled Whitney's tips from her job as a hair stylist and Makayla's spare change from a jar she keeps in her car. They bought several cases of bottled water from the local grocery store and delivered it to a grateful fire chief.
The Best Through The Worst
"That water was a good reminder that you see the best come out in people at some of the worst times," Jeremy said. "In every tragedy, sift through the ashes and there is good somewhere."
Whitney sees the good as well. "We have a really good fire department. We decided to give back and show them they are appreciated."
Makayla adds, "The firemen work hard to keep us safe so it felt really good to be able to give back and help them."
I imagine Makayla and Whitney were the ones most blessed. Forever they will remember the day they chose to be part of the bigger effort to protect their county. On second thought, maybe it was Jeremy and his team who were blessed. They were not only the grateful recipients of much needed water; they saw goodness and kindness in two young women. Say what you will be about the upcoming adult generation. I see a lot of young adults who are passionate about making a difference and putting others before themselves.
Then again, maybe I'm the one who was most blessed. I had the privilege of hearing both sides of the story and then I got to retell it to all of you!