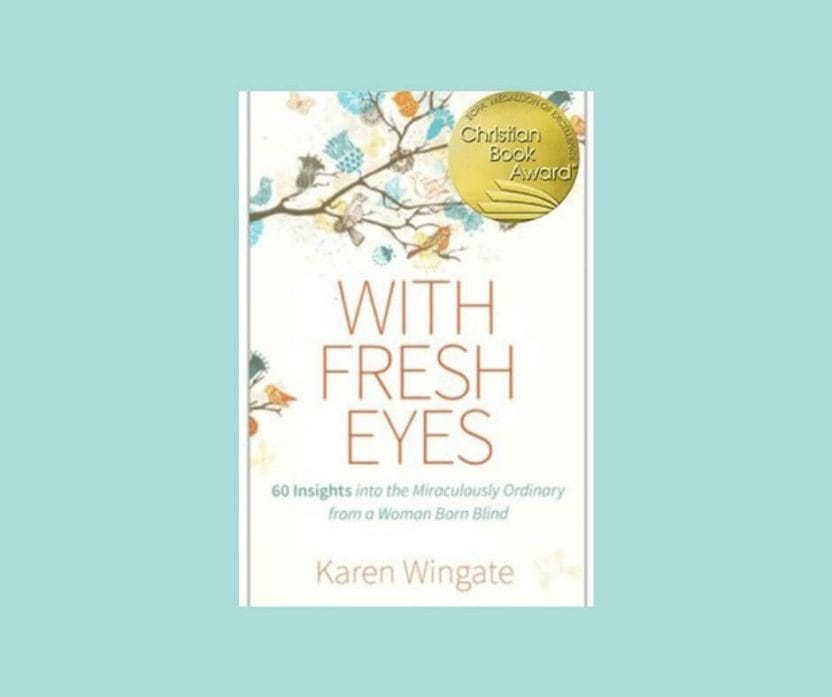 On May 3, 2016, I walked into the McDonough County Hospital to do what most women would find unnerving. I was to have a retake on a mammogram. A callback for a retake is common, and, according to the American Cancer Society, less than 1 in 10 women receive a cancer diagnosis after having a mammogram retake.
But for me, the stakes were higher. That one in ten chance was a reality. Not so long before, a younger friend would sit in the same dressing room and learn she had an aggressive form of cancer from which she would later die. And I was eight days from a surgery that the doctor had warned could cause me to lose all my sight in my stronger eye.
Cancer and loss of eyesight?
I wasn't panicking about tiny stuff. This was real. This could happen. Questions flooded my mind. How could I cope? Was my normal active life as I knew it, for all intents and purposes, over?
I tell about that morning experience in the chapter, "Mammogram," in my book, With Fresh Eyes: how I sensed the presence of God filling the room and an inaudible Voice impressing the words on my heart and mind, I am not done with you yet.
Fast forward six years.
On May 3, 2022, the same date I heard God's promise, the Evangelical Christian Publisher's Association (ECPA) announced the winners of the Christian Book Award. With Fresh Eyes, the book that told of my journey through the discovery of Better Than Ever vision, was the winner in the devotion and gifts category.
I don't think those two events occurring on the same date was happenstance.
Six years before, in that dressing room, I had no clue what I am not done with you yet entailed, I didn't know I would gain eyesight I had never experienced. Or that God would use my writing skills to craft the story of what happened and turn it into a published book. And that wouldn't be enough for our God. He would allow me to speak to multiple regional groups and share my story through radio, television, and Internet podcast interviews.
And now the ECPA award. Six years later. To the day.
While the voice is not as loud or emphatic today, I get the same sense that God is still not done. He has even greater adventures planned for what He wants to do with this story.
Was this a special calling on just my life?
I don't know why God chose to whisper those words into my soul that day in the dressing room. I do know that those words are biblically based and they apply to each one of us. As long as you live on this earth and surrender the events of your life to God's purposes, God isn't done with you yet either.
Look at His Word:
For I know the plans I have for you," declares the Lord, "plans to prosper you and not to harm you, plans to give you hope and a future.

Jer 29:11
He who began a good work in you will carry it on to completion until the day of Christ Jesus.

Phil 1:6
Now to him who is able to do immeasurably more than all we ask or imagine, according to his power that is at work within us, o him be glory in the church and in Christ Jesus throughout all generations, for ever and ever! Amen.

Ephesians 3:20,21
If you've made the choice to follow Jesus, God has started a process in you that will change you and benefit others. He has made an investment in you and He isn't going to waste that investment.
He is not done with you yet.
I like the title of James Watkins' book about the golden years, If You're Not Dead, You're Not Done. God has you on this earth for a reason. If you have not accepted Him as your Savior or put Him first in your life, God is giving you every moment more to do business with Him. And if you have made Him Lord of your life, He can still use you to bless others, no matter how sidelined you might feel. That might be hard for you to believe when you are stuck at home or your health is failing and you are dependent on others. Trust Him, He has plans for your remaining days even if you can't see it this side of Heaven.
He isn't done with you if you are in the prime of life. I recently told a group of teens at a Fellowship of Christian Athletes meeting that it's easy to buy into the lie that "my life is ruined" if something horrible happens. I reassured them that after 50 years, I discovered I could survive after getting a F on a Chemistry exam. Let's be serious though, I told them. Much more serious life events can put a pall on life: bad relationships, bad choices, unforeseen and uncontrollable life events. All of life looks black. Plans we've for our future get swept to the dumpster, never to be recovered. We wonder how we can ever recoup the losses. Life as we thought it ought to be looks impossible.
But God is God.
As God, He deals in the impossible. He can return life to normal. More unbelievable but equally true, He can make life better, even after you think it's been ruined.
Even if your body is broken and you lose everything, the bad stuff cannot crack your character. God sees your future. He sees how all the stuff going on will resolve. His plans for you are good, so very good.
I don't know what my future will hold. While it would be lovely to dream that my road will fill with book contracts, interviews, and speaking events, I also face caregiving responsibilities for my aging mother and my pain-wracked husband. I suspect there may be days when I wonder if my adventures are over. Even if I don't see how, God will still use me to bless His Kingdom in ways I can't see right now. When I trust Him for those things I don't see, that's called faith (Hebrews 11:1).
What's my part?
If I'm confident God is not done with me yet, I won't give up. I won't give up on Him or myself. I'll keep going because I know there is hope. There is something more for me beyond the current crisis. And, ultimately, an eternity awaits where we'll experience no more crisis, life ruining moments, or mired futility.
Don't give up. Don't take the easy way out. And don't try to solve it on your own because you think God checked out. He's not done with you yet, so don't you be done with Him. Stay faithful, keep hoping, and trust that He's at work, making all things ready for you.
Only He knows what lies ahead for you six years from now.
Will you join me in praying this prayer?
Thank you, Lord God that You are God. You can do the impossible, and You aren't done yet with any of us. No black hole that we find ourselves in or even that we've dug for ourselves is too deep for Your love to reach in and rescue us. Thank you. Thank you so much for seeing our potential and for not giving up on us. In Jesus' name, Amen.