My husband had back to back meetings Sunday afternoon. Knowing I needed to start supper an hour before he came home, I wondered how to fill the first hour. For some time I've longed to carve out time to spend with my Lord, praying, reading His Word, being quiet before Him. I turned off my electronic devices, arranged my light by my rocker, and gathered my Bible, journal and prayer journal. I opened my time by singing, "Be Still and Know That I Am God." Lately, when I've found a bible verse that strikes me, I've jotted the reference on random pieces of notepaper. I savored each verse, then turned to my prayer journal.
After praying over my list of people concerns, I came to a personal note about my writing. I sat back. "Lord, discouragement, doubt and fear have been chronic battlegrounds for me regarding my writing. I know this isn't trusting You. Would you help me overcome this discouragement? Help me to be more resilient."
My husband had preached that morning on Acts 1:1-14. Referring to Jesus' command to the disciples to go back to Jerusalem and wait till they were clothed with power from on high, Jack said that what we're doing may definitely be God's will, but it may not be God's time. Instead of racing ahead of God and doing things on our timetable and in our strength, we need to wait for His timing. I told the Lord that I was willing to wait for His timing. Meanwhile, as Jack said later in his sermon, I was willing to keep working, waiting with expectation, knowing my God would be faithful to move me forward when He was ready.
Fast forward to the next morning.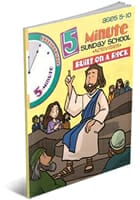 The mailbox contained a large manila envelope from a publishing company I'd never heard of. The personal letter told me this company had merged with the company who produced three books of Sunday School curriculum I wrote four years ago. The cover letter told how the company wants to expand and reconnect with previous authors.
I felt the flow of enthusiasm seep through my tired spirit. I looked further through the stack of materials which included several product catalogues. The middle page of one showcased my three books. Beside the picture was a sticker that said the books had been a finalist for a national retailing award. I had no idea!
I'm not sharing this to brag about myself, but to brag on God's faithfulness. How amazing, how "timely" that this came into my hands the day after I prayed for strength to fight my discouragement. This isn't the first time by far. So many times, God has brought a nudge into my life and ministry at just the right moment.
I'm praying about this new direction. I don't know if it will work out or not. The big message I got, though, was that someone found my work worthy, I am doing good work, and I am where God wants me to be. I can live on that encouragement for some time!
If you are praying for the Grace on Parade ministry, that's my main prayer request for this week. Pray that I will keep finding strength to fight the doubt and discouragement Satan would love to level at me.
What about you? Do you fight discouragement? Fear? Doubt? Plan a sweet hour of prayer and admit it to the Lord. Ask for His help.
Praise: My daughter returned home with not even a tiny mishap. A good sized crew helped her load the trailer here and a dozen people from a church two blocks from her apartment met the moving trailer and had her unload in 20 minutes! Her new job is going well.
Praise: Our local Bible study groups are gearing up to study Max Lucado's "You'll Get Through This." Currently, we have 32 local women studying in small groups and online groups. NOTE: You can be part of the distance online Bible study group. Contact me and I'll tell you how you can study with us.
Praise: For God's encouragement and this possible new venture.
Prayer: That I manage my writing time more efficiently.
Prayer: My agent has not been feeling well. Pray for her, will you? And please keep praying for my book proposal she is sending to editors.