The Preacher's Quartet is one amazing singing group.  Literally a group of four preachers who have known each other since Moses was a pup, these men who now live in different states, join each other several times a year to present concerts at church revivals and other events. In my humble opinion, they are every bit as good if not better than some well-known professional Southern Gospel quartets.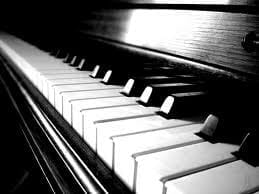 I had the privilege of hearing them in Fall, 2012.  What quickly stole my attention, however, was their pianist.  Oh my!  She was awesome.  I play the piano myself but her playing was so wonderful, so fluid, one moment I wanted to just leave to go home and try to play like her, and the next moment i vowed I would never touch the piano again because I could never be as good as she was.  Her gentle, steadying spirit, one of the group members later told my husband. keeps the group together,
It's not until Freda stands up that you realize there is something unusual about her.  Freda walked with a cane and was escorted down the stage steps by her husband.  She speaks with a slight lisp and, if you aren't looking directly at her, appears to have not heard you.  That's because Freda, who has battled multiple sclerosis since her twenties, has a profound hearing loss.
That's what makes her piano playing even more wondrous.  She can't hear the higher register of notes and what notes she can hear are distorted.  She told me she's been playing with the guys so long, "I'm used to it."  In spite of the struggle, Freda has used the gift God gave her to bless so many others.
"The M.S. has affected your legs and hearing," I said to her.  "I've heard many people with M.S. have vision trouble and I would think it would affect your hands as well."
"That's the amazing thing," she told me. "I've been this way for years but my eyesight and hands are just fine.  It's as if God didn't let the disease touch my hands so I could keep playing."
Freda could so easily be resentful that she has lost her hearing.  Instead, she's grateful for her hands and she keeps using them to extend God's grace through music to her listeners.  It was a wake-up call to me to focus not on what I don't have but on what I do have and use it to pay God's grace forward to those around me.