If you want to practice hospitality to a child, stock a box of toys.
At my next class on "How To Be An Influential Grandparent," I plan to get the class to brainstorm ideas of what they can actually do with their grandchildren: places to go, meals to eat, activities to do.  Kids today have so many planned, structured activities, I want to emphasize that sometimes Grandma and Grandpa just need to provide  a place of unstructured play.  And that means toys.  Toys say,
"I thought ahead of time about you.  I wanted you to have a good time while you are at my house."
Before my class members feel they have to spend big bucks at Toys R US or hit up their local garage sales, I want them to think about what toys they already have on hand.  So i had to ask myself, "What do I have?"
Well . . .
There's Sock Monkey and Lambchops.  There's the stuffed squirrel and C.J. Teddy Bear.  Then there's Ulfilas, the stuffed dog.
Ulfilas?  Why would you name a stuffed dog Ulfilas?
That's what the children who come to my house ask me too.
My grandpa mailed me that dog my first semester of seminary.  That in itself was unusual.  My grandparents just didn't do things like that.  They didn't even approve of me going half way across the country to seminary.  Yet, near the end of my first term, here comes a package with this adorable stuffed puppy.  I was taking Early Church History at the time and wanted to call my dog something unusual and poignant.  So Ulfilas he became.
I tell the children that I named him after a very important missionary.  Ulfilas was the first one to take the gospel message to the Goth people in the early 4th century.  In fact, he was one of the first pioneer Bible translators. Before he could translate the Bible into his native language, he had to develop a Goth alphabet. I want to be like Ulfilas, I tell my child sized visitors; I want to tell others about Jesus.
Call me crazy.
I snooped around my house a little more this evening.  I have books too.  Not many but what I have are precious books to me: Alexander and the Terrible Horrible No Good Very Bad Day is my favorite.  I don't know what happened to my copy of I'll Love You Forever. That's okay.  That book makes me cry and I don't know if I'm ready to tell the children why Miss Karen is crying.
Games are the best.  My adult daughters love to play games when they come home so we have kept lots of games.  I'm just waiting to get down on the kitchen floor to play Jenga when our church secretary's baby is old enough.  Just watch out.  Getting beat at playing Uno by a four-year-old is downright embarrassing.  I should know.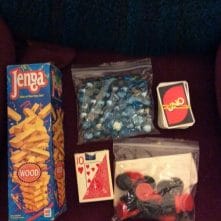 Then there's Snoopy and the real dog, Tuesday.  Kids love Tuesday and, for being a dog who isn't around many people, animals or children, she is very gentle. She gave the baby kisses the other day.
Of course, if I want my house to be inviting to kids, I may need to put up my pretties.  Or teach the children how to love and cherish them as much as I do.  Can you imagine trying to explain the history behind kerosene lamps to a child?  Sounds fun to me!
I had an art drawer at the house we used to live in, filled with construction paper, scissors, glue, crayons, markers, glitter pens, and crepe paper.  Then we moved and I don't have a good place for an art drawer.  But I could at least buy a box of crayons.  I remember when we went to visit my grandparents months before Grandma died of pancreatic cancer.  She and Grandpa lived in a senior living center apartment, small, crowded, definitely designed for the elderly.  But Grandma had a package of crayons and my girls hadn't been there five minutes before Grandma was pulling out the crayons and scrap paper and suggesting what they could draw for her. She had planned ahead. She showed she valued them being there.  She showed them they were important and worth connecting with instead of treating them like pint-sized adults who shouldn't interrupt the important conversations.
In a world where the family meets each other like ships in the night, where schedules, school, society and marriage separations yank the children in all directions, children need the safety net of a few good toys at Grandma's house.  Because toys become tools in the hands of an older generation who want to be a partner in raising up children in the way they should go.  Even if you aren't a grandparent but don't have children in your home, they children of your family, church and neighborhood need you.
We don't need a lot of external props to invest in the children in our lives. Just a few special toys that remind them of you will tell them they are special. A book and a hug can go a long way in saying "I love you."  Time spent over a game where we can model how to play fair, how to show grace, and how to have a good time can pay big dividends in the memory banks.  And even if I have nothing, I've got a back pocket full of a few stories, songs, jokes and Bible lessons.
Just ask my girls about The Wide Mouth Frog and The Purple Flowers.
In the meantime, I think I'll go buy that box of crayons.
And if all else fails, we'll laugh and dance with Snoopy. Click the link below and come dance with us.