Have you ever dreamed of joining a short term mission group that builds houses or churches but you lack construction skills? Think outside the box of what you could do – or inside a nearby basement as Dianne Balmer and her group of "Rufflers" have learned to do.
Dianne and her husband Rick work with an organization called World Mission Builders. The para-church organization of volunteers from several states travel across the country and around the world to construct churches, prison chapels, church camps and other buildings for Christian groups. One of their most recent builds was an extension to the Western Illinois University Campus House for the Campus Students for Christ Ministry.
In a two week time frame, the group of volunteers erects the outer shell of a building. My husband and I traveled down to Macomb, Illinois several times to watch the WIU building rise from its cement foundation. How exciting to watch a group of people who hardly know each other work together to do a modern day version of an old fashion barn raising! Local people join the team to provide support, local resources and meals. The church with whom I fellowship helped stock the "Snack Shack" with cookies, muffins and other treats for the men to enjoy during their coffee breaks. Teams of local women fix daily meals for nearly 70 people. The build is Ephesians 4:16 in action. It's the body of Christ at its best – working together, each giving of their unique gifts to make something wonderful happen.
What does someone do if they don't know the business end of a hammer or have no cooking skills? How can they be involved? The wives of the men on the construction team found a way to be a part of the excitement and bless even more than those who would soon occupy the new building.
When my friend Carol descended the steps of the Campus House to deliver cookies for the Snack Shack, the whir of sewing machines caught her attention. A group of about eight women were hunched over sewing machines, a pile of finished items beside them and bolts of fabric behind them. Her local friend, Dianne Balmer explained what was happening.
Some women join their husbands in working on the construction project, but the rest of the wives who dub themselves "The Rufflers," spend their time making clothing items for needy children in other parts of the world. During the two week period at the campus house, the women made 112 dresses, 50 pr. of shorts, about 50 diapers, 2 dozen pillowcases and a dozen curtain panels.
"The garments go several places," Dianne told me. "We try to give them to people who can deliver them when they go on their mission trips – it saves postage expenses! This time we sent some with a lady who'll get them to the Philippines, another lady who has family going to Guatemala, another lady's daughter will take some to Africa this fall and I have a suitcase full to send to Mexico when our missionary friends from there visit us next week."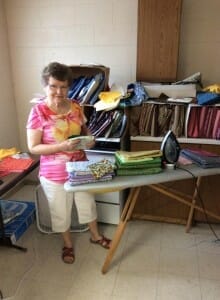 The vast supply of fabrics you see in the picture is mostly donated. "A retired teacher friend who's been an avid quilter gave us about 100 yards this time," Dianne said. "We also watch yard sales for t-shirts for the t-shirt dresses." The women make dresses for little girls out of t-shirts and pillowcases. They gladly accept donations of new or gently used t-shirts and pillowcases as well as fabric, elastic, decorative buttons and other sewing notions. If you would like to donate supplies, email me and I'll get you in touch with Dianne.
The hours spent over the sewing machines become a great time of fellowship and encouraging stories of the missions and local outreach each women is involved in. A picture of a child's smile as they proudly wear their new clothes is ample reward. "I've personally been able to hand out dresses to the Mexican children," Dianne said. "Their smiles speak volumes and their parents are appreciative of that we do for their little ones."
I'm so impressed. Any of these women could stay home and feel lonely while her husband travels across the country or around the globe to participate in a volunteer construction project. They could indulge themselves by using the travel to a new destination as a chance to shop or sightsee. Instead, they multiply the efforts of the construction workers by using their unique gifts to bless even more people. By working together in a group, they accomplish a lot more than they could alone. And It sounds like they have loads of fun doing it. I think of Ephesians 5:15,16 that says, "Be very careful, then, how you live—not as unwise but as wise, making the most of every opportunity, because the days are evil." These ladies redeem the time and use it to encourage each other and spread good far beyond the property lines of the local building project.
What are your gifts? How can you use them to bless others? How can you partner with other Christians to multiply your efforts? Be creative. Step out in faith and keep a watchful eye out for those smiles.
"And whatever you do, whether in word or deed, do it all in the name of the Lord Jesus, giving thanks to God the Father through him." – Colossians 3:17