What were  my best connections at the Dallas American Christian Fiction Writer's (ACFW) conference?
My answer might surprise you. In four days of hobnobbing with famous authors and high powered editors, my most satisfying moment came in sharing my love of Jesus with a Hispanic housekeeper.
Don't get me wrong. I met many wonderful people. I hope those contacts will become lasting friendships. I had memorable interviews with four outstanding editors. Three people in the publishing industry took the time to go in-depth with me about my writing career and were so affirming and encouraging. I attended three different classes that gave me a lot of new material to digest.
My best connection, however, happened in the hotel hallway. As I exited the elevator, I heard a sweet lilting voice coming from the direction of my room. Someone—was it the housekeeper?—was singing in Spanish. The style of music reminded me of a love song, pop music, or—could it be?—a Christian hymn. I tried to catch a word I knew from my limited Spanish vocabulary. That's not much, considering high school Spanish class was 40 years in my past and I left Arizona 30 years ago.
"Por Christos." Ah ha! I caught that. High School Spanish didn't need to tell me that meant Christ.
As I passed the housekeeping cart, I greeted the soloist with a "Hello" which she returned. How could I let her know that I was also a believer and I appreciated her song? I came up with the only God phrase in Spanish I know. "Vaya con Dios." I told her. That means "Go with God." For a writer, that's rudimentary but it was the best opener I could do. It was what I knew.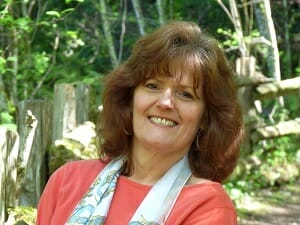 A smile embraced her reply. "Ah! Hable' Espanol?"
My smile was sheepish. "Un poco."
She shared my humble admission. "I speak little English."
We said our goodbyes and I continued on my way, feeling both gratified that I had the opportunity to reach out to one of the hotel staff and frustrated that I had not been able to do more.
The next day around the same time and in the same place, my songbird was again proclaiming the praises of her God. She saw me coming. "Hi!" Her voice was enthusiastic. I reached far back.
"Buenos Dias."
Her intake of breath was audible. "Buenos Dias. Como' esta?"
"Muy bien. Y tu?"
"Muy bien!"
I changed to English. "I did pretty good, didn't I?" I was downright proud of myself. I said two sentences in Spanish.
"Yes you did." I could listen to her enthusiastic voice all day. Then she went on. "Blah, blah, blah, blah, blah." Translated, I didn't understand a word she said.
Evidently, she understood the Spanish translation of a smile. I came up to the cart and greeted her with my blessing from the day before. "Vaya con Dios."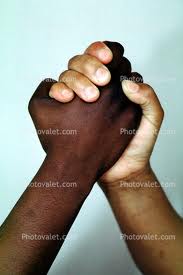 "God bless you," she replied. Smiles are a wonderful way to put cracks in the language barrier. And then our hands raised in what would become for me a profound moment. In something that resembled a cross between a high five and a handshake, our hands clasped above her cart. Flesh against flesh, we were one, celebrating our joy in our discovery that we shared a mutual Friend. In spite of the language barrier, in spite of the vast difference between maid and guest, affluent and minimum wage earner, our commonality was found in Christ. All differences between us disappeared in that holy moment. What we were and where we came from didn't matter. We both loved Jesus.
It was a taste of heaven. It reminded me that the glory of our faith is that Christ came to redeem all men and women, people of all language groups and walks of life. Race won't matter. Language won't matter. Neither will job description, socio-economic status, or family heritage. If it won't matter there and then, it doesn't matter here and now. That's why, even at a writer's conference, I can say with the same excitement I showed when I told my husband I met Francine Fivers, Allen Arnold, and Kate Breslin, "I met this Hispanic housekeeper who sang love songs to Jesus as she works!"
No I don't know her name, but Jesus does. I know the theme of her love songs. And that's enough.