"The increase of evil in our world means Jesus' Second Coming will soon be here.

"
Have you been following the news? If you're like me, you've given up. We've cancelled our cable. I don't receive Breaking News from Fox News anymore and I haven't done anything to reinstate it. Why bother? It's all depressing anyway. I hear enough bad news as it is. I've got my own hurtles to jump through. I hear heartache all around me.
What's on the news? Massive migration throughout the Near East into Western Europe as people try to flee the genocide happening because of ISIS. Government corruption and twisted values of high court officials. Local newscasts rife with reports of shootings and murders, Scores of personal friends fighting complicated medical issues and being forced to deal with broken medical and insurance industries.
Several people have commented to me that all these bad events must be a sign that Jesus is coming back soon. I agree that the time is getting closer for our Lord to return. But I have a couple of problems with this reaction.
First, I've been hearing people say this throughout my life. I have a hunch, a dread even, that our world situation could and will get lots worse before our Lord comes again. Jesus himself wondered if the Son of Man would find faith on the earth in the end times.
Here's my second problem with this reaction. I would love, love, love for Jesus to come back right now. That would solve all these problems. With one rip in the clouds, Jesus would wipe ISIS off the face of the earth, put those corrupt government officials where they need to be, and move aside all the obstacles that liter my path. That's what we want. That's what we long for.
As much as we—and all creation—groan for release from the hold Satan and his minions have placed upon us, God has a very good reason for His delay. Frankly, I find that holding fast to this reason demands more faith that belief in His ultimate return.
Here it is:
"You'll Get Through This."
Not by the skin of our teeth. Not ragged and barely alive like Frodo and Sam emerging from the fire cliffs of Mount Doom in Lord of the Rings. God has the power and the desire to take our worst moments and turn them into His best. God can make redemptive good out of our messes.
He did that with Joseph.
He did it for David.
His ultimate moment came when Christ's battered body bounced back into a resurrected body.
God can bring about greater good than we ever dreamed or imagined.
Yes, He'll build our character.
Yes, suffering will make us stronger.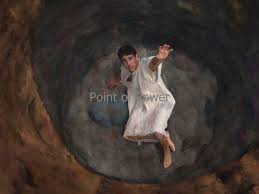 We'll learn to depend on God more. God has even bigger plans in mind. He use Joseph's brothers' betrayal to bring Joseph to the second highest government office in Egypt and used him to save countless hungry people from starvation, including his own family.
As Max Lucado says in his book, "You'll Get Through This," we are the Josephs of our generation. God can and will bring about amazing things through your life, through your tough times. We have to suffer the pain in order to show the gain. God can't deliver us and show His glory and power to deliver if there is nothing to deliver from.
Why did I say it's easier for me to believe that Jesus will return than to believe He can bring about something amazing like He did with Joseph? I don't know about you, but sometimes I think it's hard to believe God would do something astounding with my life. Wanting Jesus to come back is also, excuse me, a cop out. Jesus' return would end my suffering, would remove my emotional baggage. Sweet! Love it! Bring it on.
No. No, he's not done yet.
Think of this. If your current mess would culminate in ten people accepting Christ as Lord and joining you in eternity, would you be willing to give Jesus a little more time in His plans to return? If God had plans for your suffering to be used as a megaphone for His grace and power that would embolden hundreds of Christian to hang on to their faith, would you buy into it?
The thing is, we don't know God's plans. Neither did Joseph. He just kept being faithful.
If we truly believed Jesus was coming back soon, then, oh boy, we'd better get busy. We have a lot of work to do. There's so many that need to know of His saving grace.
I like what Max Lucado says in the first chapter of his book, "You'll Get Through This."
"You'll get through this. It won't be painless. It won't be quick. But God will use this mess for good. In the meantime, don't be foolish or naïve. But don't despair either. With God's help, you'll get through this."
After being lifted from a cistern and dumped in a slave wagon, Joseph kept his head. He didn't succumb to fear or despair. He didn't harbor hatred or unforgiveness. He quietly trusted that God had a plan. He kept his integrity even though that seemingly set him back. He met each moment with grace and wisdom.
May we do as well. For when we do, God will do amazing things through us.
Watch for it! And let me know what you see God doing.