I do hope you all aren't getting tired of my airport stories!
I'm not tired yet of telling them. As my friend, Kim Jackson says, I love bragging on God. Every time I fly, it's like, okay God, what are you going to do this time?
The Lord was so good to me the last time I flew. When I checked in with the ticket agent, she asked me if I would like to move forward in the plane. Cool! She initiated it. I didn't have to. And it was so nice. I remembered a mom-ism from my childhood: you have not because you ask not.
So this time, when I flew to Arizona to be with my mom during her surgery. I decided to be proactive. Nothing ventured, nothing gained, right? Another mom-ism. My original seat for my flight from Chicago to Tucson was in row 27. With my propensity for motion sickness, that would not have been good. Yes, the ticket agent said, they could move me up. I got seat 8d. Any extra charge? No, I just needed to pay for my checked bag.
When I boarded the plane in Chicago, it got better. I was in an upgraded row, you know the kind with extra leg room that usually costs $39 extra? Moreover, no one was in the row with me. I was a little disappointed in that because I love meeting new people on planes. But I figured that God knew what He was doing; perhaps He knew it was time for Karen to take a break and have some alone time. I blissfully spread out over two seats and spend an uninterrupted hour working on my latest novel.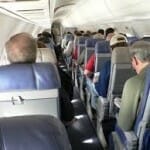 On my return flight, I decided to ask again for a seat closer to the front. This flight was full, the agent told me. But if I wanted to, I could check at the gate. When I arrived at my gate, I headed for the desk. But an inner nudge stopped me. "Don't." The thought was so loud I thought someone had spoken the word. I stood a minute reconsidering. Why not? You have not because you ask not. The word repeated in my brain. "Don't." So I sat in the gate waiting area, surveying the mass of people and the chaos around me. Best to not hassle an already harassed gate employee, I decided, cinching my decision.
Once I boarded the plane, I understood God's not so small nudge. A frail, weary looking older woman struggled to her feet to let me into my seat in the middle of the row. She told me her arms hurt and it was hard to get up and down. I dug out my cell phone, explaining my husband wanted me to text him when I boarded the plane.
"How sweet," she said. "Are you newlyweds?"
"No, we've been married almost thirty years," I told her.
"I've been married 48 years." She smiled wistfully. "My husband is sitting behind me."
An idea came to me, but I punched it down. The last time I saw people trying to trade seats on an airplane, the flight attendant wouldn't allow it. They had to know who was sitting in what seat, she had explained. My courage returned. "Can I switch seats with your husband? I don't know if the flight attendant will let us, but it's worth a try."
"Oh would you?" Her eyes grew round. "You don't have to do that." It was too late. I had already caught the attention of the flight attendant who immediately agreed.
Well, you would think I had given that couple a winning lottery ticket. They thanked me profusely. Once during the flight, I needed to let my row mates out and as I stood in the aisle, that sweet little couple directed smiles in my direction big enough for even me to see. As I left the plane, they again thanked me.
It was no big deal. In fact, it worked better for me because I got an aisle seat instead of a middle seat. It was only one row behind. Yet to them, 48 years wasn't long enough to savor each other's company.
Nothing else happened that flight. It didn't need to. For the rest of my trip, my heart was wrapped with peace, contentment and joy. So many times, God has blessed my travels. This time, He used me to be part of someone else's airport blessings.