God can protect you from anything. His ability and desire to shield you from harm is as impenetrable as a twelfth century castle wall.
Psalm 91:2 says,
"I will say of the Lord, "He is my refuge and my fortress, my God, in whom I trust."
Wait a minute. Stop right there. Fortress? What does that mean? How is God like a fortress?
Being a child of the 20th century, I'd consider the word "fortress" to be in my list of top fifty words I don't use on a regular basis. I never quite got what the Bible meant when its writers described God as our fortress and refuge. A visit to an Austrian castle in 2009 gave me that visual image I needed to fully appreciate God's care for me.
Set on a sheer rock cliff near the Kamp River in lower Austria, the Rosenburg Castle towers over a broad valley. Anyone wanting to get to the castle would have to travel up a winding road along a retaining wall and go around to the back gate of the castle.
The gate entrance leads the visitor into a large grassy courtyard, probably where the knights did their jousting tournaments.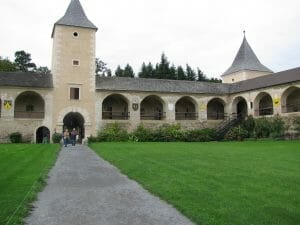 The next gate leads into a smaller cobbled courtyard. Perhaps milady, the lady of the manor would look through one of those windows into the courtyard from her boudoir. No, we haven't reached her suite of rooms yet.
After entering the castle door, we meandered through the weapons room, the dining hall, and up a winding three-story staircase. We passed other rooms including the chapel. Finally at the back of the house, we entered milady's bedchamber. The bed is short because people back then believed it was unhealthy to sleep in a prone position.
By this time, I was totally turned around. Where in the bowels of the castle were we? And why must milady's bedchamber be so far away from household activity? One look outside and the explanation from our tour guide made it crystal clear. The personal rooms of the mistress and her ladies overlooked the valley beneath.
The room was literally on the edge of the cliff. No sneaking out the window at night to go get ice cream! In fact, explained our tour guide, this was very intentional. Ladies were so respected that the men did all they could to protect their women. No one was going to scale that cliff. Intruders would have to go through multiple barriers to reach her rooms. A brawl in the courtyard, marauders, or even all-out war could be busting forth, and it's possible our mistress and her servant girls would not  be aware of the chaos.
That's what it means for God to be our fortress.
He loves us so much that He's going to put several barriers between us and danger. The danger is still there. We might be aware of it. We may even be singed by the heat. But it will not destroy us. It will not destroy our eternal souls. So bent on protecting us from destruction, our Lord even stretched out His own body on a cross to save us from extermination.
"Whoever dwells in the shelter of the Most High




    will rest in the shadow of the Almighty." – Psalm 91:1
If we willingly enter the place of refuge He has for us, we can rest, even sleep in confidence, knowing His presence has built impenetrable walls around us.  Just think of what He may be protecting you from at this very moment that you don't see.  We don't even need to shrink from what we do see!
When others verbally attack us,
When injustice or catastrophe threatens to take our life savings and prized possessions,
When obstacle after obstacle wrap tentacles around our feet, attempting to drag us down into discouragement,
We cannot, will not, be destroyed. By God's grace and through His protection, we will survive.
So, don't be scared of the storm. Don't fear the cancer. Don't get your stomach in a knot about the political mess in our country, the turmoil in your community, the pettiness in your church and the tensions among family members. God will take care of you. He will protect you. He will provide for you. He's like a rock. He's not going anywhere and He will not crumble or falter in His care for you.
God is your fortress, a refuge in times of trouble. Trust Him to do His job well.