Are you having a "How long?" kind of day?
I am.
Don't quote me Bible verses. Don't spout cute platitudes. Don't share Facebook memes. Don't sing little ditties about "don't be in such a hurry." There's several things in my life for which I've waited a very long time. Today, I'm weaker than usual. It's been long enough. My soul is crying out, "How long, O Lord."
I imagine you've had days like that. Waiting for a promise or a dream to be fulfilled. Waiting for something big to happen. Waiting for the weariness, drudgery and pain to end.  Waiting for a good day for once. Waiting for a job promotion, a grandchild, Mr. Right, a book contract. Waiting for a relationship to heal.
You feel like you're part of the Indie 500. All the other cars are whizzing past you while you sit permanently stuck in the Pit. As you watch, you see those you love caught in a never ending circle of destruction and wonder when they are gonna get their act together? How long till they realize the choices they are making take them farther and farther from God's love?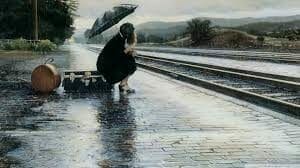 We're not alone. Did you know the phrase, "How long?" appears 54 times in the Bible? Sometimes, surprise, surprise, God says it Himself. Imagine that. God gets tired of waiting too.
Strangely enough, Revelation 6:9-11 brings me the most comfort during my more lengthy waits.
Revelation 6:9,10 says:
When he opened the fifth seal, I saw under the altar the souls of those who had been slain because of the word of God and the testimony they had maintained. They called out in a loud voice, "How long, Sovereign Lord, holy and true, until you judge the inhabitants of the earth and avenge our blood?" 
These martyrs were waiting for justice. Of all the violent acts on earth, they had experienced the epitome of unfairness. They had suffered the ultimate pain—the pain of death for the simple crime of believing in Jesus. Faith in Christ is supposed to be a good thing, right? What did they get for doing the right thing? Death. Unfair. Mega-unfair. Is there any justice in the earth?
We can relate to injustice. We see it all around, in our court system, our federal government, our schools. The wicked live in luxury while those who try to live righteous lives feel like bugs on a windshield. How long, O Lord, how long?
Is it wrong to ask how long? I find God's reply in the next verse interesting. He doesn't quote scripture to the martyrs.  He doesn't scold them for impatience or lack of trust. He gives an open, straight and reassuring answer:
Then each of them was given a white robe, and they were told to wait a little longer, until the full number of their fellow servants, their brothers and sisters, were killed just as they had been.
This one verse reassures me on several levels. God cares. He will sustain and strengthen you through the wait. He gave the martyrs white robes, a reminder of their righteous relationship with him. God will uphold you because you belong to Him. You may have to wait longer but He'll give you what you need to endure the wait.
Second, He knows what happening. While I don't know when the wait will be over, He does. He has everything under control. Things might get worse before they get better, but they will get better.
Third, I'm not alone. Other people have to wait too. Other people are going through "how long" moments. In my wait, I need to refocus on my brothers and sisters who are also in the long haul of waiting. I need to use my waiting moments to encourage them.
Finally, it's almost over. The worst of the wait is behind me. The final hour before dawn always seems like the darkest hour and the longest hour, but it is still just an hour like any other hour. I've held on this long; I can hold on for a little longer. As a girl friend told me when I chafed at how long it was taking to have my new glasses prescription filled, "You've waited your whole life for better vision; surely you can wait two weeks for new glasses."
Just a little longer. Meanwhile, God will take care of me. His promises still hold true.
What are you waiting for?