Many of you have shared my joy and excitement over the last five years after a chance surgery allowed me to see as I'd never seen before. You've paused with me to appreciate the beauty of Creation and the value of the ordinary.
It's been a blast discovering so many new things that I didn't realize people could actually see. Here's the best part. As I saw my world as I've never seen it before, I also saw facts about God I'd never noticed before. I'd love to share my observations with you. Here they are:
The human body is incredible.
The structure of the eye is unbelievably complex. I have a long list of eye maladies, but there is so much that still does work. For over fifty years, I had enough vision to function fairly well.
And the eye is only a small part of the human body. There is absolutely no way humans could have evolved. We are too complex and there are too many things that must be in perfect balance in order to work at all. And all those body systems have to coordinate with each other.
It's amazing how the brain can compensate for the loss of a body part. I've experienced that myself, for my mind fills in what my eyes cannot see – all in a nano-second. Only God could create something as complex as an eyeball and then design the rest of the body to compensate when the eyes falter.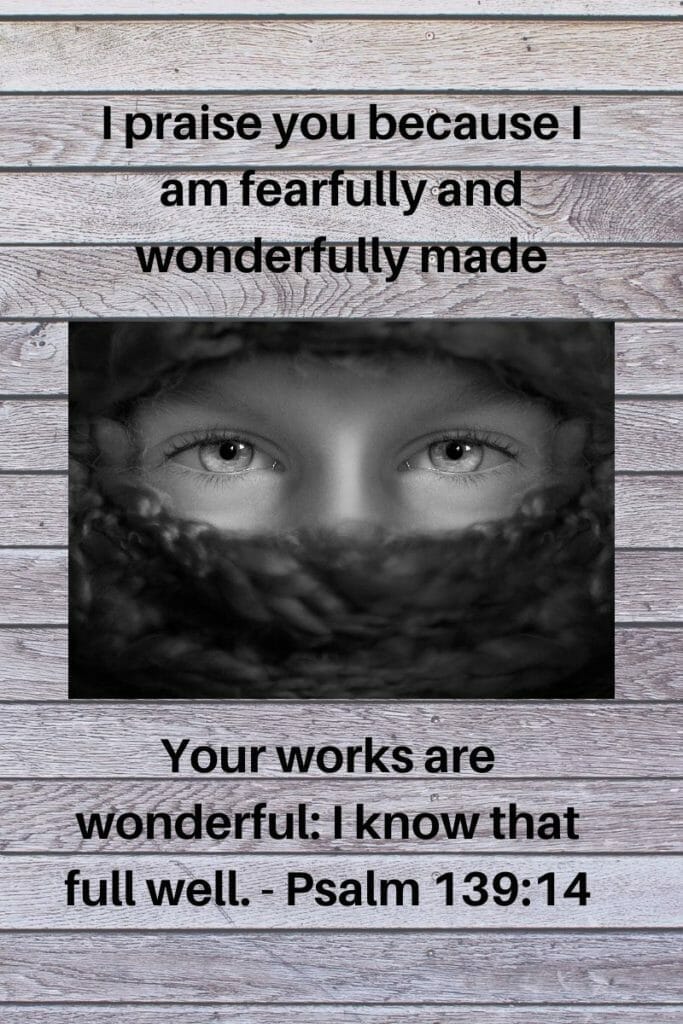 Heaven will be amazing.
Don't let me mislead you. My vision is not 20/20. At 20/100 in my good eye and 20/80 on extra good days, I still look at objects through a constant jitter of motion from an eye disorder called nystagmus. I visit an ophthalmologist at least twice a year. My ability to function visually is being held together through multiple doctor visits, several daily eye drops, high-powered glasses and assistive technology.
But just think! In heaven, I won't need any of those. I admit, I don't quite understand how this glorified body thing works. Will we have actual eyes to see? And if we do, how much will we be able to see? We often refer to 20/20 vision as perfect vision, yet that is just a number. Telescopes and microscopes prove that even normally sighted people are limited in what they can see. Will Heaven be different? All of us – not just me – will most likely see better than we've ever seen before. Regardless, we will have eyes that will never wear out and never need surgery, eye drops, glasses, or even sunglasses. We see through a mirror darkly now but someday we will see Jesus face-to-face in all his glory (i Corinthians 13:12).
God's power is phenomenal.
God can do above and beyond anything we can possibly imagine. If I had been born in ancient Rome or China, the white lenses of my eyes would have signaled that I was defective. I would've been one of those babies left out on the side of a road. Even 150 years ago, I would have been left in an orphan asylum or workhouse, or I would've begged for my living. When I was a child in the mid 1960's, my local school district wanted me to attend the State Deaf and Blind school. Just in my lifetime, legislation and technology have allowed me to do so much, despite my visual loss.
Beyond that, I know God has done the impossible in my life so many times. I've been able to raise a family, give my life in service to the church, and have had a fulfilling writing career. I have done many things that I should not have been able to do. I cringe to think of the times I should have been hurt through accidents or by malicious people, yet God has protected me.
And now, God has displayed His mighty power again. Yes, medical technology, as proven by my surgery five years ago, has vastly improved. But I can attest that this latest surgery was God's doing in God's timing. I expected that the doctor would mend the torn retina and restore my fading vision, instead I got better vision than I ever dreamed.
There is another layer to this. You would think that after half a century of not having clear input, my optic nerve would have atrophied and my brain wouldn't know how to process the new images it was receiving after surgery. And yet – I can see better than ever.
We – any of us – can do more than we think.
When God is working within us and through us, we can move beyond our human limits. My life proves that. Yes, it's been gut determination and stubbornness on my part, at least that's what many people think. But I'm here to tell you God has been such a major part of that process of making me a functional, useful human being. It is Him, not me, who has done amazing things through me.
It's coming soon! You can preorder your copy of With Fresh Eyes now through Amazon, Barnes & Noble, Christian Book, or your local book retailer.
Are you as excited as I am? Feel free to spread the news to your social media. Here's a link to With Fresh Eyes you can share with your friends.