Doves remind me of Christians.
The early Arizona morning called me awake with the sounds of dozens of birds outside my window.  Since I can't see the little critters, I'm not an avid bird watcher so I usually don't pay too much attention to their chatter.  This particular morning, not wanting to get out of bed quite yet, I listened to the fanfare outside my window, enthralled with the variety of bird songs.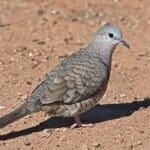 I put on my musician's hat and tried to write their songs on a mental sheet of staff paper.  There were trills, scales, rapid fire chirps, and one bird call that sounded every bit like the bird was saying "Baa-gel.  Baa-gel."  I must have been hungry for breakfast.  All together, the crowd of birds sounded like Creation's first symphony warming up for a world premier. Thrashers, warblers, cactus wrens, finches, grackles, and orioles tried to shrill their way to first chair.
Like a counter-melody against the staccato bursts of song came the drawn out coo of the Inca dove. As I tried to place the sounds I heard on a musical scale, I realized most of the birds were singing higher notes like a bunch of mezzo-soprano divas. The musical range of the dove is lower, limited, and legato – drawn out.  The song of the dove consist of just three notes – f. dflat, dflat, eflat, f, dflat, Dflat, Eflat. (I checked it out on my piano!) Half note, quarter note, eighth, eighth – over and over again.
Its languid and soothing tones stand out sharply against the staccato screeches and arrogant librettos of the others. It dares to be different with its controlled measures.
Human beings are funny critters.  We want to stand out as the best  – but not by too much.  It's unpopular, uncomfortable to be too different, Who wants to be a dove that sings in a different key with only a three note song?  It would be like singing "Silent Night" at a high school pep rally.
Recently I heard Gloria Gaither tell about the early beginnings of her career.  Her husband Bill wanted her and his brother to join him in a singing trio.  But Gloria couldn't sing, she told him.  She was an alto with only a six note range.  She didn't fit with the other singers of the day. So Bill wrote songs that fit Gloria's range.  And Gloria learned to do the very best with the little that she thought she had.  She soon discovered that their songs became wildly popular because so many others had only a six note range as well.
Have you noticed lately how chaotic our world is?  Have you ever felt like clapping your hands over your emotional ears to cut out the chaos and cacophony of the world's messes?  Do you get tired of the greed, the strife, the angling for control and power?
Be a dove.
When the people around you are critical, sarcastic, and insensitive, be a dove.  Be that distinctive voice of compassion and sensitivity
When others fight to get ahead, to fulfill their needs and wants, to angle for getting ahead and grabbing what they feel is their right to have, be a dove.  If you follow Jesus' command to be the servant of all, your servant hearted strategy will clash against the cacophony of a me-first society.
When the world would walk away from the hurting, treating the people they serve as only a job, be a dove.  Show you care.  Hold the hand of the hurting.  Treat the weak with respect. Take the time to do the little acts of kindness.  I guarantee your actions will be noticed.
Like Gloria, you might feel you don't have much to offer.  Neither does the dove.  Only three notes over and over again.  Yet each morning, a world awakes, longing to hear the peaceful melody that greets the dawn.
God gave you a song, a song of comfort and peace.  And people who long for the peace of Jesus will flock to you wanting to know what makes your song so special.
In one of her earliest songs, Gloria Gaither wrote:
"You ask me why my heart keeps singing

Why I can sing when things go wrong.

But since I've found the source of music

I just can't help it. God gave the song."
When you find the courage to sing God's song of peace in a world crazed with chaos, your song will stand out as different and people will ponder the source of your music.
Be distinctive.  Be a dove.