I miss Anne.
Our church family said goodbye to the most godly, perky, pain-ridden, and feisty woman I think I've ever met. Her name was Anne. Anne with an E, she would tell you. Like Anne of Green Gables, she would add.
You've met Anne before. I've told in this blog how arthritic Anne determined to make sugar cookies for a campus ministry outreach and how students responded to the Gospel message because of the Cookie Outreach.
Here are the blogs I wrote about Anne.
Anne's Iced Sugar Cookies
Cookies and Campus Ministry
Despite 50 years of struggle against rheumatoid arthritis and several memory stripping strokes, Anne attended every church function and community event. She crocheted beautiful afghans by the dozens and sugar cookies by the hundreds of dozens. She was faithful to bring either deviled eggs or Jello salads to every church dinner, declaring they were a flop, but of course, anything Anne made was wonderful.
She always had something to say whether in Bible study, a personal greeting, or commentary on life in general. She had the knack of making every woman feel special for she greeted all of us with "Hello pretty lady." She told us she loved us dearly and she prayed for us every night. I do believe she did.
We termed her comebacks as "Anne-isms" and didn't realize how prevalent her unique way to coin a phrase was until her daughter read an entire list of aphorisms at her funeral. My favorite was "Too soon old, too late smart." Her children remember her warning of, "You straighten up or I'll knock you into the middle of next week."
Near the end of her life, Anne hurt so bad, it hurt to watch her.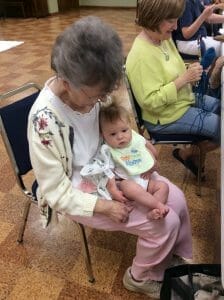 We could tell she was in pain by the way she shuffled into our worship center. Yet, we would ask her how she was and she'd say in a chipper voice, "Able to sit up and take nourishment." We knew it was an especially hard pain day when she'd say, "Not so good."
She longed for Heaven where she would hurt no more. She had every confidence where she was going and wasn't afraid to talk about it, even to a Hindu doctor in her last week of life. She was ready to go, the sooner, the better. As her physical body deteriorated, we all knew instinctively that going on over to Heaven was the very best thing for Anne.
And so as I sat in her funeral service, I heard the ministers and her family members express Anne's hope of Heaven. I believed without a shadow of a doubt that Heaven was Anne's new address. I quipped to several people that someone should have snuck a pair of ballet slippers into Anne's coffin, for now she would be dancing with Jesus, pain-free.
My head knew where she was.
My sensibilities and love for her wanted nothing but that for her. Yet the knowledge of Heaven's blessings did little to comfort me. The reminder of my hope wasn't evident in its healing balm. I still missed her. A gaping hole stretched across my emotional heart.
The emptiness pervaded the church sanctuary. All of us could feel it. Anne was missing. Forever, there would be an empty chair at my weekly bible study, an empty spot before the church's kitchen counter where she and her husband dried silverware after our midweek meals, a void of a perky voice telling me she loved me and she was praying for us. Even as I asked church lady friends, "Who will fill Anne's shoes?" I quickly realized none of us can fill the void of what Anne offered to our community life. We are not Anne. The best we can do is to be the best we can be of ourselves.
Anne often bemoaned she didn't have anything to contribute. After serving years as a public school reading specialist, her arthritis and strokes left her dependent on the rest of us. Anything she did accomplish came at a great struggle. I often said to her, "It's not what you do but who you are that blesses our lives." I don't think she ever bought that.
Did I want her back?
Are you kidding? That lady was in horrific pain. She had suffered tremendous heartache throughout her life. Yet I missed that courageous presence that taught me how to deal with my own pain and heartache. I missed her unflappable faith that showed me I could boldly speak the name of Jesus and get away with it.
My husband came to the podium for the last time and asked us to bow in prayer.
"Thank you for Anne's life. Thank you for the gift of Anne."
Anne was a gift from God, oh no doubt. In fact, each life that intersects ours is a gift from God. Instead of resenting the removal or breakdown of the gift as will ultimately happen, I can thank God for the gift of Anne.
Gifts have many purposes. Gifts are given for us to enjoy and find pleasure. Gifts are also given to enrich our lives, to be used as tools to ease our daily tasks. Some gifts are treasure troves that unlock worlds to explore. Gifts are more than one additional thing to own. Gifts make us a better, richer, and more fulfilled person.
I am a better Christian because of the gift of Anne. She may have passed on to Heaven, but the treasure trove of her life remains: her spunky spirit, her unflappable faith, her tenacity and courage in the face of tremendous odds. Those are the gifts that remain, gifts I can redistribute to others. Like Jesus' breaking of the loaves and fish to feed thousands, instead of becoming less in the division, these gifts become greater in the multiplying. We are all richer people because of who she determined to be.
Thank you, God for the gift of Anne. In that, I found closure and comfort.
Who in your life has been God's gift to you? Take a moment to thank the Lord for their lives and what they have contributed to your life.