Today I feature a very special guest blogger—my husband, Jack Wingate. His weekly column in our church newsletter was so compelling that I asked him if I could share it with all of you. Perhaps you've seen the link going around Facebook about the history behind the Christmas carol, "I Heard The Bells On Christmas Day." Jack took that article and in his unique articulate way, brought it home to our daily culture. Here are Jack's thoughts.
HAVE YOU HEARD THE BELLS?
I heard the bells on Christmas Day
Their old, familiar carols play,
and wild and sweet the words repeat
Of peace on earth, good-will to men!
And in despair I bowed my head;

"There is no peace on earth," I said;
"For hate is strong, and mocks the song
Of peace on earth, good-will to men!"
Then pealed the bells more loud and deep:
"God is not dead, nor doth He sleep;
The Wrong shall fail, the Right prevail,
With peace on earth, good-will to men."
Read the words above again. Carefully. Then read them again. They were written by Henry Wadsworth Longfellow during some of the darkest days of the Civil War. He heard the Christmas bells that December day in 1863 and the message of God's "peace on earth" (Luke 2:14). And yet all around him he observed a world of hatred and violence that seemed to mock the Christmas message.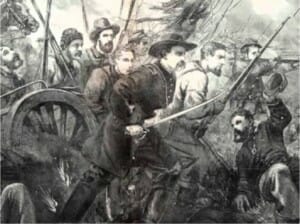 He had recently been widowed, now raising six children alone, the oldest of which had run away to join the army and was now nearly paralyzed by a confederate bullet. On Christmas day he wrote this poem (now set to music) seeking to capture the conflict in his own heart and the world he observed. "Where is the peace?" he asks. "Is the angelic message of Christmas of "Peace on Earth" being mocked by the reality of hatred and war?"
I think we can relate to him. Mass murders in Paris and San Bernardino; a Russian airliner bombed out of the sky, beheadings, crucifixions and atrocities against Christians by ISIS militants, and murders committed wholesale in that "city of the big shoulders" to the north of us. In my heart I sometimes cry, "Father, where is the peace on Earth?"
And yet, "God is not dead, nor doth He sleep!" So the mighty promise of Christmas still rings out. We still carry the message first told so long ago. The One born in Bethlehem is the Prince of Peace. His Kingdom will prevail on the earth. And His birth is still worth celebrating.